Business opening, ready to promote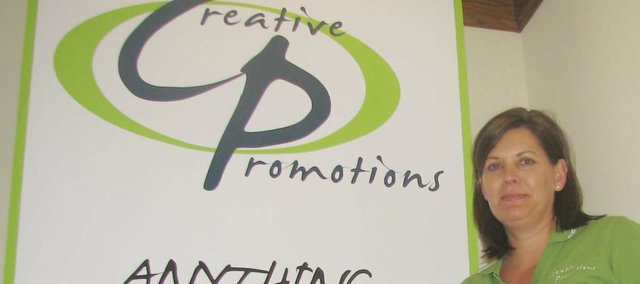 A new promotional business has made its way to Basehor.
Creative Promotions, 14500 Parallel, is having its grand opening at 3 p.m. today to introduce Basehor residents to the items it has to offer.
The company started 10 years ago, Basehor Creative Promotions owner Valarie Grant said, and representatives are also in Hiawatha and Alabama. Creative Promotions creates promotional items like pens, cups, banners and T-shirts for different businesses. Grant said pens were quite popular, with the average order being about 500 per company, but she said her and her staff could put a business's logo on just about anything.
"Almost everything you can think of, we can put your name on it," Grant said.
Grant said she decided to open Creative Promotions in Basehor because of the city's ideal location in Kansas.
"Basehor is a great place to have a business," Grant said. "It's close to everything. It's close to Kansas City, all kinds of places."
Promotional items like those of Creative Promotions are important for businesses, Grant said, because they offer a fast, unique way to reach customers.
"It's an inexpensive way to promote a business," Grant said. "And it's an instant contact with the customer. It's also an easy way to remember that company. People will think, 'What was that company? Oh yeah, that's where I got this cup.'"
To ensure customers remember the specific company, Creative Promotions tries to put logos on items people frequently use.
Today's grand opening will feature food, refreshments, gifts and door prizes. Some of Creative Promotions current vendors will be at the event to talk to visitors and provide opportunities to network and begin thinking about future business promotion, Grant said.
"We're very excited about it," Grant said. "It's going to be a fun day."
The opening is from 3 p.m. to 6 p.m. today, Thursday, and anyone is welcome to attend. For more information, call (913) 662-7177.