Camps keep legend alive, provide Scout activities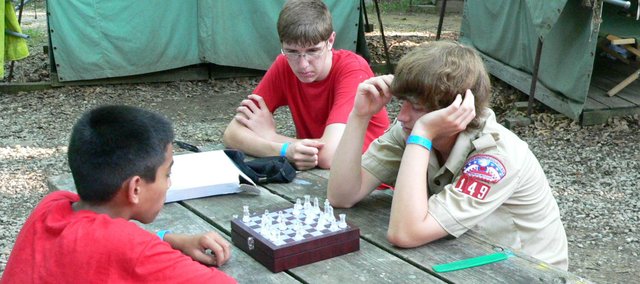 Theodore Naish may have gone down with the RMS Lusitania in 1915, but his legacy lives on close to 100 years later in the form of the Theodore Naish Scout Reservation in Bonner Springs.
Originally founded in 1926 by Naish's widow, Belle, who was on the same ship with Naish but survived, the reservation is situated on an 1,100-acre property located along 118th Street and Kansas Highway 32, with an additional 300 acres across the street where a horsemanship course is offered. The camp recently received a more than $6 million construction makeover, and new features include a trading post, campfire arena, large dining hall that seats 800 people and a huge pool.
"The size of an ocean," said Naish reservation business manager Andrew Cameron. "It's really big."
The reservation is open to Boy Scouts and Cub Scouts within the 19 counties in eastern Kansas and western Missouri making up the Heart of America Council, as well as out-of-state Cub and Scout troops. It is open all summer and on many weekends throughout the off-season. Every summer there are a number of camping sessions for the troops, including Bear Resident, Webelos and Boy Scout summer camps.
The Bonner Springs Boy Scout Troop 149 attended the summer camp session from June 14 to June 21. Committee member and adult leader Michael Hart said the experience was a combination of working on "every merit badge under the sun," as well as getting to take part in hiking, swimming, shooting range and knots and crafts activities. Though fun for the boys now, he said the point of such camping experiences and the Boy Scouts in general was just to prepare them for the future.
"Well I guess what we're really trying to do is to build skills and confidence among the boys so that they'll have a smoother transition into adulthood," Hart said. "They'll be more confident and sure of themselves. It's just so they're generally more well-rounded and have a community-oriented outlook."
The Boy Scout summer camp sessions are over, but there are still a number of camping sessions left for troops to participate in. The Bear Resident Camp is for Cub Scouts going into the third grade and is an overnight experience for the Scouts to participate in with their families. The session also consists of two full days of such activities as crafts and games, archery, getting to play in the castle and stockade fort that is set up in the Cub World area of the reservation and swimming in the pool that comes with a life-sized pirate ship.
"The kids have a blast doing that," said Cameron of the pirate ship, which was built during the recent remodel.
Bear Resident Camp sessions are available through Aug. 2.
Venturing Camp is a camp designed for those Scouts getting ready for a high-adventure excursion, and is for Boy and Girl Scouts ages 14 to 21. During this camp, participants will get to take part in such activities as climbing and shooting. The Venturing Camp will be from Aug. 4 to Aug. 9.
Though it won't be on the Theodore Naish Scout Reservation itself, the Boy Scout Rotary Camp will be from Aug. 3 to Aug. 7.
"It's a really cool program we offer," Cameron said. "It's a Boy Scout camp essentially that's catered for physically handicapped Scouts. The activities are all designed with them in mind."
Cameron said during the Rotary Camp, the Scouts would take part in many of the same activities as those during the Boy Scout summer camp, but with some modifications to fit the needs of the participating youths. He said, as of yet, he wasn't sure where the Rotary Camp would be located.
Cameron, who has been working at Naish for five years as its business manager, said the reservation was a great place for troops to get a rewarding and fun experience all at the same time. But, he said, it wasn't just the young people who get something out it.
"For me, I could name a million reasons," Cameron said. "I've had the time of my life out here. The kids that come out here have a great time."
Registration information, contact (816) 942-9333 or visit the Heart of America Web site at hoac-bsa.org.