Douglas was a difference-maker at Basehor-Linwood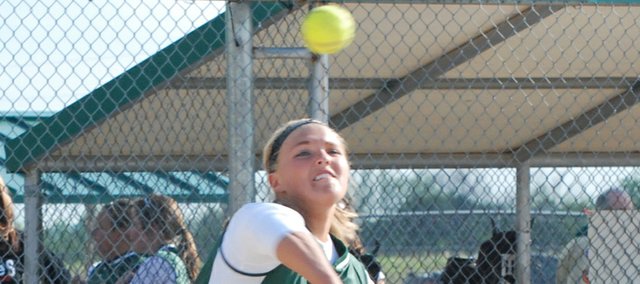 Kara Douglas was at basketball practice after school one day during her junior season, when coach Noah Simpson gave his team instructions.
Whichever team lost the drill would be forced to run sprints. He said something to effect of losers will run.
Douglas piped up.
"Instead of saying loser, could we say second best?" she asked.
Simpson agreed.
The "second-best" mantra was born. Throughout the next year and a half, Simpson would repeat, 'as Kara would say, second best.'
The story exemplifies the type of person Simpson knew Douglas to be.
"She always looked at the positive aspect to whatever she did," Simpson said. "Nothing she ever said or did could be construed as negative. She wanted it positive.
"Kara was an amazing person to have around. She produced on the court, and she produced mentally and physically for the team. She spent four years in our program and was definitely a huge part of our success. Her leadership was tremendous."
Douglas earned 11 letters in 12 sports at Basehor-Linwood High School, four letters each in volleyball and softball, three letters in basketball.
She earned the Kansas City Star Scholar Athlete of the Year award and was named the Class of 2009 Basehor-Linwood girls high school athlete of the year, which is selected by coaches.
She also is grounded enough to recognize her parents, James and Jeannie Douglas, who have supported her since she started playing T-ball and did whatever they could to attend each game.
"Kara always stood out as a natural athlete, and her personality is fun to be around," Jeannie Douglas said. "The coaches and the kids liked her. We are very proud of her. It will be sad not seeing her play anymore, but that is OK. I am sure she will play a little bit more."
Douglas plans to attend Kansas State University and is undecided on a major. She had options to play softball in college but chose not to continue playing competitively.
Regardless of the future, she had an impressive prep career. Coaches say she is an example to young girls in Basehor of what they can be if they work hard. She teaches children who live around her how to hit the softball. She tries to set an example for younger girls and impart words of wisdom to them.
"I would say just worry about yourself, don't worry about what other girls think of you. That's a big thing with girls especially," she said. "Enjoy (high school), it goes by really fast."
While it went by fast, the last year might have been her most difficult.
Douglas injured her back last summer and it nagged her throughout her senior year.
In volleyball season, Douglas suffered serious back pain. She sought treatment, and then it went into her leg. She experienced numbness in her foot.
"I really wanted to play through it and act like it wasn't bothering me," she said. "But when my foot started going numb, I knew I had to take a few weeks off or it would ruin sports for my whole senior year. I didn't want that to happen."
She returned during basketball season and contributed to a team that lost in the Class 4A sub-state finals. A year earlier she helped the Bobcats advance to state.
At softball, she was a stalwart for the Bobcats. She played third base and anchored the left side of the infield for the Bobcats while earning second-team All-Kaw Valley League honors.
Douglas batted .346 with 27 hits and 22 runs batted in. She had one home run and a .462 slugging percentage. She had 18 put-outs and 29 assists in the field.
It was difficult losing to Bishop Ward and not qualifying for state during her final season.
"I remember that after we lost, on the bus ride home, everyone was upset," she said. "I was like 'remember what this feels like, and you don't want to feel it again next year.' It really was hard, being the last sport at high school and our last game. Yeah, we really wanted to win, but what can you do now? That one hurt a lot."
When recalling her career, though, she thought about all that she had done, the memories of playing in three different sports and the games.
"Obviously we didn't win (a state championship), but looking back we are happy with what we have done," she said.