Hundreds dive in to Schlitterbahn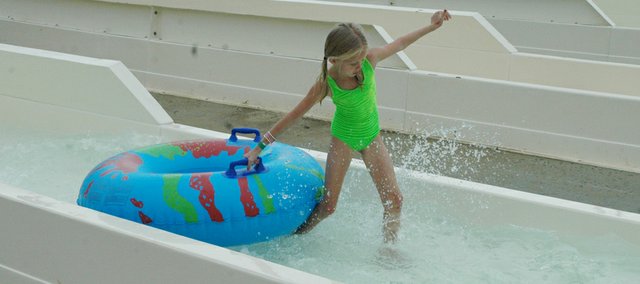 Riding a tube around an 1,800-foot river and sliding down a completely black, enclosed water slide were the most popular experiences to be had at Thursday's sneak peek of the new Schlitterbahn Vacation Village Waterpark.
But the Torrent River, which marketing director Chris Ozimek describes as "the world's largest tidal wave river," and the Black Knight waterslide were only two of the eight attractions available to visitors during its soft opening event, where patrons were allowed to attend for a discounted rate while finishing touches are still being put on the park toward its tentative official opening this Saturday.
"At that point, we'll kick everything into full gear," Ozimek said, noting that most of the marketing had been on the local level thus far to give Kansas City and area residents a chance to experience the park before the country does.
And experience it they did. Ozimek estimated that the number of people who showed up Thursday was in the hundreds, all of them looking to dive into such attractions as the Bahnzai Pipeline, a 42-foot tall waterslide, the Kinderhaven children's water activity area, with a giant fountain and 10 mini-slides, and Henry's Hideout Hot Tub Bar, a bar surrounded by a large hut tub, where a refreshing cocktail can be purchased by simply swimming up to the bar.
"This is great. I love it," said Kansas City resident Donna Summer, who used to live in Texas, the home of the original Schlitterbahn Waterpark in New Braunfels, as well as two other locations in Galveston and South Padre islands. "This will be good, if not better (than the Texas locations), but it just takes time. I've had so much fun."
The soft opening of Schlitterbahn Vacation Village Waterpark will be from 10 a.m. to 6 p.m. daily until the park officially opens. Discounted admission price is $19.99 for all guests ages 3 and older. For more information, contact the park at (913) 312-3110.
More on this story can be found in next week's editions of the Bonner Springs Chieftain, Basehor Sentinel, Tonganoxie Mirror and Shawnee Dispatch.