Team-first Porchia is Athlete of the Year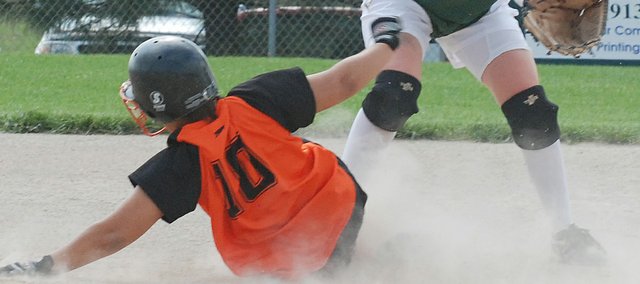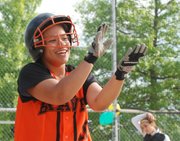 Starian Porchia does not consider herself a flashy player.
Rarely was she a go-to scorer in basketball. She came in the game to get dirty and defend somebody — hard.
In volleyball, she was not known for soaring over the net for a spike. Instead, she was on the back row, diving for digs and making the plays that set up her teammates for the big hits.
In softball, Porchia was a solid hitter and had a flare for the highlight catch in center field. Every week it seemed her coach, Kara Wardlow, would say that the team was sparked by one of the senior's diving catches in the outfield. It is this consistency and effort that led her to be voted as the 2009 Female Athlete of the Year at Bonner Springs High School.
"I was really excited that my coaches thought enough of me to give me this award," she said. "Ever since freshman year I have looked up to the person who gets the award, no matter what. I hope that people are able to look up to me because I had to work really hard to get to the varsity level. I hope the younger girls can say, 'well, if she can do it, I can do it.'"
That unselfish approach pretty much sums up Porchia's career at BSHS. She is quick to give credit to her coaches and teammates and seldom is seen without a smile across her face. She was first out of the team huddle, and the first to pep up a downtrodden team.
Porchia is self-admittedly not the healthiest person, but she never let any of her injuries keep her from competing.
"I have been to physical therapy for ACL prevention before, and I'm going to a chiropractor now," she said. "I have problems. I have the knees of a 50-year-old, pinched nerves all the way up and down my back, my spine is twisted at the top and a little out of place. My body is just not that good. I never stopped giving it my all because I loved playing so much."
She started playing sports at the age of 5 when she was on a tee ball team, which in time switched to softball. In grade school, she began playing basketball and soccer, and because she was not doing enough according to herself, she added volleyball and track in middle school. Porchia does not remember what made her decide to play sports — one day she just was started playing and liked it. The Bonner Springs native does remember being influenced by her mother and aunt.
"I remember going to watch my aunt's games from early on with my mom and found it interesting," said Portia. "I was kind of an athletic person, so I just kind of gravitated to sports."
Porchia spent her career at BSHS working as a role player of sorts. With the exception of softball — where she was an All-Kaw Valley League second team honoree as a junior and a first team member as a senior — she rarely garnered individual accolades.
She never wanted accolades, though. Instead, her focus was always on the team, no matter what the sport.
"Her leadership is just awesome," girls basketball coach Clay Oakes said. "During practice it's awesome. During games it's awesome. She'll do anything you ask. She's very coachable. She listens and wants to learn."
She credits team sports with teaching her some valuable life lessons, ones that she will be able to take with her into her adult life.
"I learned discipline and self motivation," Porchia said. "Sports has a lot to do with the type of person I am today. I am very disciplined academically and self-motivated. How far can you go in life if you are not self-motivated and disciplined?"
The recent graduate plans on attending Johnson County Community College this summer — something she has done for three summers in a row, to take Composition II, a college freshman required course. She also is going to squeeze in some time to attend a friend's youth group and play flute and piccolo in the city band.
In the fall, she plans on starting work on her degree in education at JCCC. She may also walk on as a softball player in the spring. In two years she plans to transfer to the University of Kansas, UMKC or the University of St. Mary to finish up her degree as a precursor to her Master's in Psychology, so she can become a high school counselor, coach, life coach or college professor.
There is little doubt in her or her coaches' minds that whatever Porchia decides upon, she will have little trouble reaching her goal.