Basehor grocery store open for business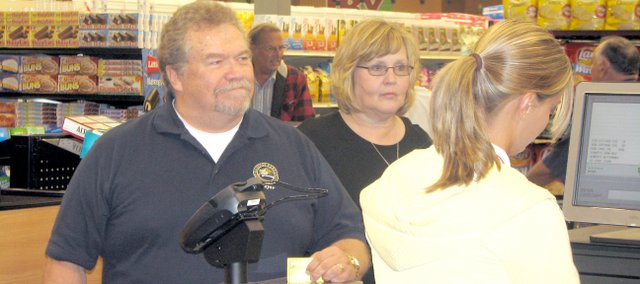 Friday morning marked the official arrival of Basehor's first grocery store in eight years.
Wolf Creek Marketplace had its grand opening at 8 a.m. Friday, and a crowd of about 30 eager customers quickly came in after the doors opened to get a look at the store and shop around.
"I feel good," Benchmark Management owner Ed McIntosh said at the opening. "I felt stressed before, but now I just feel good."
Baggers and cashiers were standing post the morning of the marketplace's debut, ready for customers to pass through the checkout line. Mayor Terry Hill was the first person to buy groceries, and he handed the checker the store's first dollar. Former mayor Chris Garcia followed through the line with his family after all of Hill's purchases had been carefully bagged and placed in his shopping cart.
At Monday's Basehor City Council meeting, Hill said he was honored by the experience.
"I had the pleasure of spending the first Susan B. at the grocery store. I was glad to be the person to do that, and glad to beat Chris Garcia to it," Hill said with a laugh.
Hill said his wife had especially enjoyed seeing the store.
"I'm hiding my wife's car keys, so she doesn't run to the store twice a day because she loves it so much," Hill said. "It's a beautiful facility and a true asset to our community."
Council member Iris Dysart and council president Jim Washington also expressed their approval of the grocery store at Monday's meeting.
"I had a pleasant experience when I went there (Sunday) and had lunch with a friend out on the patio," Dysart said. "The store is really beautiful, and I plan to do all my shopping there."
Washington's comments were met with applause from the audience at the meeting.
"I was pleased with the way the store was set up. It's modern," Washington said. "As I said before, it's not up to the people of Basehor to make the store successful, it's up to (the store) to stay competitive. They've done a fine job so far. I commend them for a job well done."
The council members were in agreement with several others in town, McIntosh said.
"The support has been great so far," he said. "We really appreciate that, and we hope we can keep it running."
As for operating manager Kevin Barclay, the opening meant the end of a long, frustrating battle. As he rushed around Friday morning, fixing flower arrangements, polishing the floors and setting out tables, he took a deep breath and looked at his finished project.
"We've come a long way," Barclay said. "It feels great to have it all done, and it's only getting better."