Vandalism costing county $10,000, officials say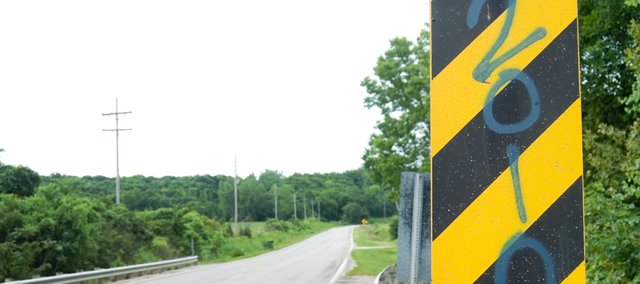 A wave of vandalism in the northwest part of Leavenworth County is digging into the county coffers.
Mike Spickelmier, director of the Leavenworth County Public Works Department, said since the beginning of the summer, county officials estimate 100 signs have been vandalized.
"It is a real problem when we have very limited resources," Spickelmier said. "It slows us down when we have to take care of this kind of stuff. It makes (the sign crew) less productive because they have other jobs they could be working on."
Typically the graffiti on the sings consists of the number 2010 and in some cases "PR 2010." The graffiti is not focused on any particular sign. A bridge south of U.S. Highway 73 on 179th Street has the phrase "we rule" and "2010 is the s--t." The graffiti is written in the same color blue.
Spickelmier calculated that each sign cost the county around $100 in both materials and labor to replace. This brings the total cost close to $10,000.
Leavenworth County officials believe this may be the work of students at Pleasant Ridge High School.
Charles Coblentz, Easton School District superintendent, said he has noticed the graffiti in the district and said action will be taken if the vandals turn out to be Pleasant Ridge High School students.
"You don't show school pride by vandalizing county signs," Coblentz said Monday. "If we caught somebody doing it we would contact the sheriff's office and let them know that it happened and we would tell them who did it so they can go out and pursue whatever avenue they need to stop it from happening."
Leavenworth County Undersheriff Ron Cranor said his office was made aware of the graffiti last week and a report was taken on Monday. He said they had no suspects at the time but the investigation was ongoing.
County crews would attempt to clean the signs, but Spickelmier said if the sings fail to meet federal reflective standards, they would have to be replaced.
The Leavenworth County Commissioners were made aware of the vandalism during the public works department's monthly update on Thursday.
The commissioners were not pleased to hear the news.
"The fact of the matter is we have vandalism, we have identified it, and we have reported it," commissioner J.C. Tellefson said. "When and if the perpetrators are caught, they will be prosecuted."