Bonner restaurant weighs in with 'Ultimate Destroyer' sandwich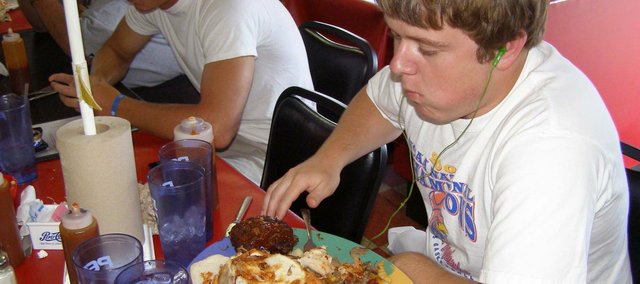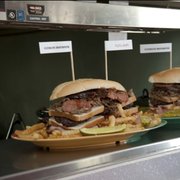 It may be called the destroyer, but the new Papa Bob's BBQ sandwich that challenges people to eat six-and-a-half pounds of food in 45 minutes is designed to do just the opposite.
"It's a gimmick," said restaurant owner Bob Caviar of the "Ultimate Destroyer," his sandwich creation. "If it gets people in here, that's my purpose."
Even though the light-hearted challenge of eating more food than the body would like is all in good fun, there is a seriousness behind it that can't be denied.
Caviar, like so many other business owners across the country, is feeling the affects of the economy. Instead of his regulars coming in once a week, Caviar said he's lucky if he sees them once a month.
This scenario is nothing new for small businesses, but Caviar isn't going to let it become just another excuse. That's where the idea for the "Ultimate Destroyer" sandwich came from.
"I thought it would be fun, but I also thought it would get us some exposure. Get our name out there," Caviar said. "These days you have to do whatever you can do."
So what exactly is the "Ultimate Destroyer?" Well, plain and simple, it's a feat of engineering and culinary genius all in one.
On a 12-inch hoagie bun is first placed a half-pound of pulled pork and then a half-pound of hickory smoked sliced pork. On top of that goes some of Papa Bob's sauce and two slices of bread. The sandwich continues with a half-pound of hickory smoked ham and a half-pound of hickory smoked turkey breast. This is followed by more sauce, two more pieces of bread and three half-pound smoked hamburgers, and then some more sauce.
The sandwich isn't done yet, however. Next comes a half-pound of hickory-smoked brisket and a half-pound of hickory-smoked barbecue sausage. The end is in sight, finally, as a last squirt of sauce is added.
There are four-and-a-half pounds of meat on the sandwich, which includes every sandwich meat Papa Bob's regularly sales.
The rules of the game are simple. Finish everything on your plate, including the sandwich, fries and pickles, in 45 minutes without throwing up, and you get the $48 dinner for free. Bragging rights are an added perk.
So far, many people have ordered the sandwich, most whom have gotten it as a meal to share with a friend or family member. But seven brave souls have attempted the challenge itself, none of whom have succeeded.
The person to get the closest, Taylor Sharp of Kansas City, Kan., ate about four pounds, leaving a mere two-and-a-half pounds left on his plate.
"It gets a little crazy," Caviar said of the restaurant's atmosphere as someone takes on the challenge. "One person had 16 friends in here. They were egging him on and screaming. It's fun."
The camaraderie that goes with attempting such a feat is another nice part of the challenge. It's those friends, Caviar said, who are ordering food of their own, filling the seats that are often left empty by the tough economy.
So far the challenge seems to be working for the restaurant. Not only are people taking on the sandwich for a good time, but Caviar has gotten the exposure he desired from area and national publications.
"We've got to get people in here," Caviar said. "This is what we do."
A full set of rules for the challenge can be found at the restaurant, 11610 Kaw Drive, Bonner Springs, or online at papabobsbbq.com.