Creative Promotions starts business with a bang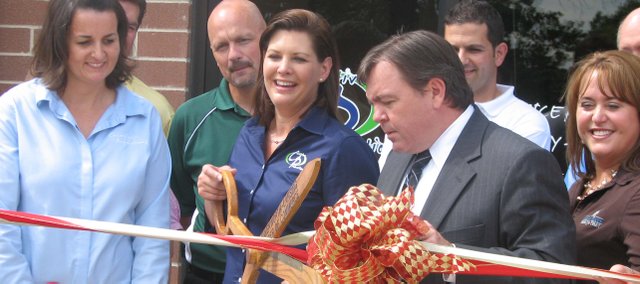 With the cutting of the ribbon, Creative Promotions made its entrance into the Basehor business scene.
Creative Promotions, 14500 Parallel Road, had its grand opening July 16 to introduce Basehor residents to the items it has to offer.
At the opening, several of the business' vendors set up displays to show off their products and give visitors the opportunity to start thinking about future business promotions.
Showcased that day were promotional items such as pens, thermoses, mints, notebooks, magnets and hats.
In addition to networking and browsing all the displays of available products, open house guests could sample from an open table of food and refreshments, and had the chance to win prizes in a drawing every 30 minutes throughout the day.
Owner Valarie Grant said she was pleased with the turnout at the opening.
"It's going really well," Grant said that day. "I think everyone's having a good time."
About an hour after the event began, those in attendance walked outside to witness the ribbon cutting ceremony.
"I just want to thank everyone for coming today and sharing this with us," Grant said. "We're excited to be here, and we appreciate your support."
Grant decided to open Creative Promotions in Basehor because of the city's ideal location in Kansas, with its proximity to Kansas City and other prominent areas of the state.
The company started 10 years ago, Grant said, and representatives are also in Hiawatha and Alabama.
Creative Promotions motto is "anything with your name on it," and Grant said this was quite true. Nearly any product a business representative could think of could be branded with the company logo.
Grant said pens were particularly popular, with the average order being about 500 per company.
Such promotions are important for businesses, Grant said, because they offer a fast, unique and inexpensive way to reach customers.
For more information about Creative Promotions or its available products, call (913) 662-7177 or go to mycreativepromotions.com.