Golf event honors memory of student's death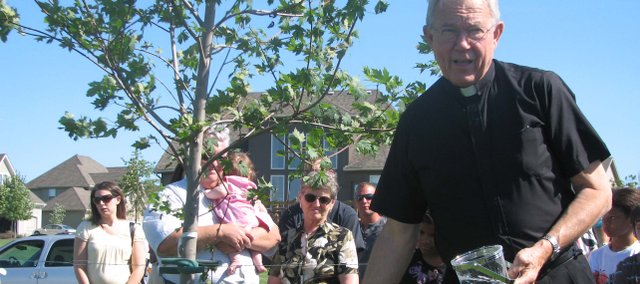 About 200 Basehor community members gathered Friday at Falcon Lakes Country Club to honor the memory of a 9-year-old boy who suddenly died earlier this year.
The Jared McDonnell Memorial Golf Tournament raised money through tournament registration and a silent auction to pay for a playground to be built in the Falcon Lakes subdivision in Jared's name.
Jared died Feb. 2 after suffering a severe asthma attack and going into cardiac arrest. At the time, he was a third-grader at Basehor Elementary School.
Before the golf tournament commenced, participants, friends and family walked down to the course's third hole where a maple tree was dedicated to Jared.
Holy Angels Pastor Alfred Rockers gave some inspirational words to the crowd about the tree's commemorative nature.
"May this tree grow tall and strong and beautiful with fall colors in memory of Jared," Rockers said. "Bless this maple tree, give success to its roots, and give it the ability to soak up the power of the sun."
Rockers then sprinkled the tree with holy water, and presented a plaque to Jared's tearful parents, Tim and Jeri McDonnell.
"The nine years Jared had were fulfilling," Rockers said, "And he will always be remembered."
Debbie Breuer, one of the coordinators of the event, said the day was successful in its efforts to raise funds for the playground, on which construction will probably begin next spring. With the combined money from the tournament and auction, a total of about $8,500 was collected that day.
"It was a beautiful evening," Breuer said. "We had a great committee organizing it, and everything went just great."
Some of the items up for grabs at the auction were Kansas State University and Kansas University basketball tickets, a suite for a T-Bones games, gift baskets that included gift cards for salon services and restaurants, and several golf bags.
"We had such a great variety of things for the auction," Breuer said. "We're grateful to all those who donated and those who attended."
The 2009 Jared McDonnell Memorial Golf Tournament was the first of what is anticipated to be an annual event to remember Jared.