Master gardeners visit library, provide homegrown advice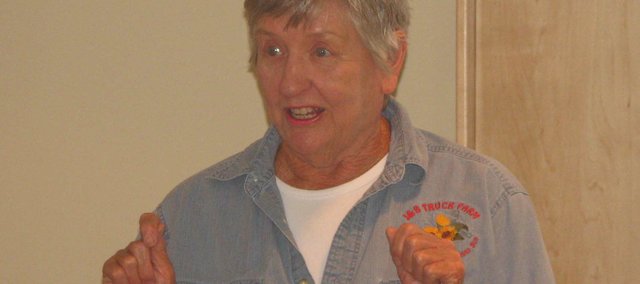 Herbs aren't just enjoyable to eat and pair with select cuisine. These natural additives are also interesting conversation pieces.
Master gardeners Joy and Bill Kromer came to the Basehor Community Library July 16 to give people advice on growing herbs at home. Joy Kromer also shared folklore surrounding some commonly used herbs like basil, thyme and parsley.
To start, Joy said she wanted to clear the air about herbs and spices. The two are different, she said.
"Spices are always dried and come from tropical countries," she said. "Herbs don't have to be dried and come from all over."
Basil, Joy said, is a sacred plant in India. It was said to cure dragon bites, and a prayer of apology is offered to the plant as it is cut. Joy said basil came in many forms including purple basil, which goes well with fruit and chicken, Thai basil, which is found is several Asian dishes, and cinnamon basil, for which Joy said she hadn't found a suitable recipe.
Traditional green basil is often paired with Italian food, but it has a versatile taste, Joy said.
"Most people can't think of anything basil doesn't go with," she said.
In the garden, Joy said basil enthusiasts needed to be sure to pluck the plant's flowers to prevent a bitter taste. Basil thrives in warm weather and will retreat with the first chilly breeze, Joy said.
Thyme is another herb of which Joy says she is quite fond.
"I can't live without thyme," she said. "This is one of my favorite herbs."
Thyme was believed to improve physical stamina, Joy said, and Roman soldiers took thyme baths to renew their strength and bravery. She said this plant had also been linked to peoples' recoveries from gout and sore throats. Thyme can grow straight out of the garden or can creep along building walls. Joy said it withstands winter conditions well and will faithfully return the following season. Vegetable dishes benefit from the use of thyme, Joy said, and it can even aid in keeping moths away from linen closets if placed on shelves.
Parsley is a third herb Joy discussed that has a unique past. Romans fed the plant to their horses before chariot races to bring good fortune and increase the performance of the animals. Joy said parsley was loaded with vitamins A and C, and it was a tomato's best friend in a meal. She advises to plant parsley next to tomatoes, corn or asparagus and to buy it in plant form instead of seed because its seeds were extremely slow to sprout.
Joy and Bill both agreed home growing was a splendid way to create a nutritious and flavorful diet. Joy said she had seen gardening catch on, and she was quite pleased.
"I feel there's a strong movement about local growing," she said. "People want to know more about their food, and that's great. It's so healthy."
Bill Kromer will return to the Basehor Community Library at 7 p.m. Aug. 20 for a discussion on heirloom tomatoes.