Varsity Post 199 wins Zone Tournament championship
Three from Basehor help summer squad to state tournament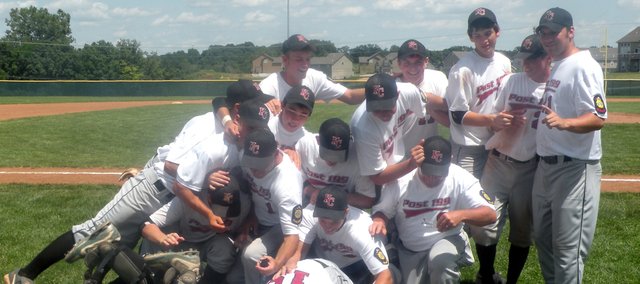 A team composed of players from Basehor-Linwood, Tonganoxie and Piper high schools is headed to the American Legion Baseball State Tournament.
K.C. Varsity Post 199, a 16-and-under squad, captured the Class A Zone Tournament championship on Sunday at Piper High School to advance to the state tournament.
The team is 30-6 this summer.
Post 199 coach Steve Rezin expected to have a talented squad this season. The full roster returned from a group that went 19-12 last year and made it to the Zone Tournament finals before being eliminated.
"They've always been a pretty good team. They've played together for a long time and it's not surprising, really," Rezin said of the team's success. "They've played so long together, they know each other, and that helps a bit. But they've got a lot of talent, too. They're pretty good ball players, but any time you go 30-6 that's somewhat surprising, I would imagine."
Basehor-Linwood High School players Destry Bryan, Nathan Quigley and Jared Patton are on the team, along with Tonganoxie's Dylan Puhr and Piper's Bryan Rezin, Taran Carlisle, Alex McGinnis, Matt Woolley, Nick Cavlovic, Jackson Wagner, Seth Hatfield and Ryan Calvert. Rick Bryan, Derek Bryan and Tony Wagner are the team's assistant coaches.
The team used a challenging tournament schedule to prepare it for the Zone Tournament.
Post 199 routinely took on older teams. It placed first at the Doniphan County Invitational, an under-19 tournament. In addition, it won the Cowtown Showdown, an under-17 event, at Mid-America Sports Complex in Shawnee.
Based on its record, Post 199 earned the right to play host to the Zone Tournament. It knocked off Olathe South, 6-3, in the first round of the double-elimination event. Then it hammered Bishop Miege, 8-1, before claiming an 8-3 victory over Olathe South in the finals.
Eight zone — or regional — tournaments were played around the state, and the eight winners will compete for the state title July 24-28 in Emporia. It will utilize a double-elimination format.
Post 199 will open the state tournament at 1 p.m. Friday against the Lansing Reds.
Rezin said his squad has faced Lansing four times this summer and is 2-2 against the Reds.
In addition, Post 199 has played and defeated state tournament qualifier Salina.
Other teams in the field are Ottawa, Dodge City, Nickerson, the Wichita Sox and Emporia.
Rezin said he has high expectations of his team at state.
"I don't know the records of all of these teams, but if you get to this point they're all good teams," he said. "But I like our chances as much as anybody's. If we go down there and play like we're capable of playing, we're going to do all right."