Fire departments team up for night training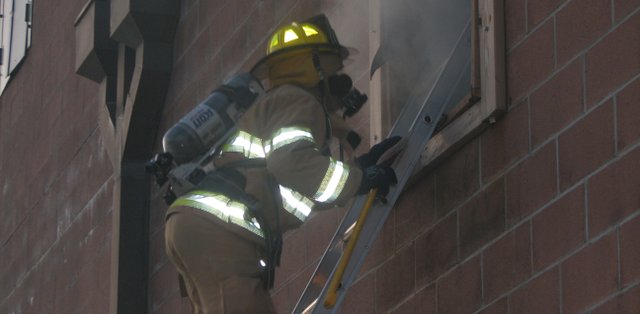 Photo Gallery
Fairmount Township firefighter training
The Fairmount Township Fire Department teamed with the Reno Township, Stranger Township and Bonner Springs fire departments Saturday evening to undergo a round of intense training on fighting fires and rescue at night. Each of the four departments drove to Overland Park to use a fire burn tower in the city. This burn tower allows for controlled fire and smoke to simulate a real emergency situation in a safe environment.
The training is part of the departments' yearly process that involves one night round and one 8 a.m. to 5 p.m. round.
Fairmount Lieutenant Chris Angermuller said the department paid for the training and invited the entire county to attend.
"A lot of fire departments can't afford to pay for something like this," Angermuller said. "This way, everyone can come, we all get the practice and work together."
For more on this story, see Thursday's issue of the Sentinel.