Area firefighters battle training program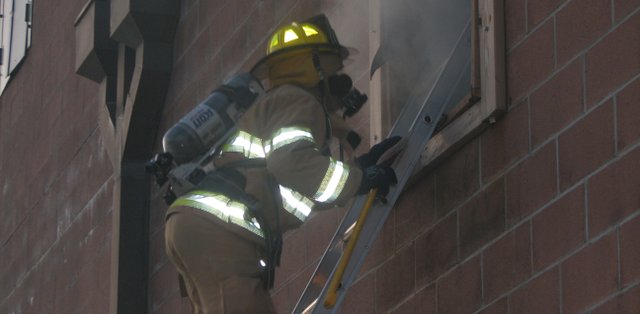 Photo Gallery
Fairmount Township firefighter training
A blanket of fire bellows as it climbs the walls and envelops the room. Smoke plumes in every corner, thick and pungent. People trapped inside the structure scream for help. And this is just training.
The Fairmount Township Fire Department teamed with the Reno Township, Stranger Township and Bonner Springs fire departments Saturday evening to undergo a round of intense training on fighting fires and rescue at night. Each of the four departments drove to Overland Park to use a fire burn tower in the city. The burn tower allows for controlled fire and smoke to simulate a real emergency situation in a safe environment.
The training is part of the departments' yearly process that involves one night training and one 8 a.m. to 5 p.m. training.
Fairmount Lt. Chris Angermuller said the department paid for the training and invited departments from across the county to attend.
"A lot of fire departments can't afford to pay for something like this," Angermuller said. "This way, everyone can come, we all get the practice and work together."
When all participating firefighters had arrived, Angermuller gathered everyone for a quick safety briefing. He stressed the importance of taking the training seriously.
"We're going to have fun, but we also need to be safe," he said. "You have to act like this is the real deal."
The departments ran through four scenarios, each time with the fire at a different location within the structure and with different statuses of victims. Firefighter Olie Olesen and his daughter Sarah posed as victims during a run who were carried in the fire engine bucket and brought to safety.
"We try to change up how we react as victims because you never know," Olie Olesen said. "Sometimes someone is freaking out and trying to get into the bucket before everyone else."
When each scenario was completed, Angermuller called the firefighters back to discuss what went right and what went wrong. He and Fairmount Assistant Chief Chuck Magaha said the groups did a good job but needed to work on a few issues like ladder positioning and accountability.
"We're not nit picking," Angermuller said. "We're here to learn. This is where we learn what we do."
The discussion finished, all the hoses and equipment were packed up again, and the trucks pulled out to get in line for entrance into the next setup. As each run commenced, the firefighters ran to their places and carried out their missions with precision.
"It looks like chaos, but everyone has a task," Fairmount Assistant Chief Tony Turner said.
Fairmount Capt. Jim Dickey said a lot of work, planning and coordinating was required for every run, and these were elements of firefighting the public didn't usually see.
"A lot of people don't realize what goes into it," Dickey said. "It's not just pulling a hose and spraying the wet stuff on the red stuff."
The training began at 8 p.m., and the Fairmount crew returned to the Basehor station shortly after 1 a.m. Tired and hungry, the men unloaded their truck and reflected on the night.
"I think it went perfect," Angermuller said. "We made a few errors, but that's where we learn. It was a great evening, and I think everyone got a lot out of it."