Beckham,
KC

give big show on small stage
Photo Gallery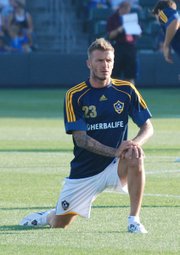 David Beckham and the LA Galaxy visit Kansas City
The Kansas City Wizards played host to David Beckham and the Los Angeles Galaxy on Saturday, July 25, at CommunityAmerica Ballpark. The squads played in front of a packed house and battled to a 1-1 tie.
Kansas City, Kan. — It was more than an hour before kickoff, but the stands already were beginning to fill and the concourse was crowded.
Beer lines were growing and jerseys were flying off the racks at the gear stands.
Tailgates were cut short as fans expedited pre-game routines to get in place early Saturday evening for the most important warm-up session of the Major League Soccer season.
David Beckham — world famous soccer star, model, husband of Spice Girl Victoria Beckham, pop culture icon, tabloid cover boy and starter for the Los Angeles Galaxy — was in town for a Major League Soccer game against the Kansas City Wizards at CommunityAmerica Ballpark.
Some may argue that the Wizards' MLS Cup championship in 2000 was the biggest moment for professional soccer in Kansas City history. Others might point to the glory days of the Kansas City Comets.
If professional soccer's popularity in Kansas City continues to expand in the coming decade and Major League Soccer creates a lasting presence, however, then there's a good chance Saturday night's 1-1 tie will be remembered as a pivotal moment in the sport's history here.
Since moving from Arrowhead Stadium in Kansas City, Mo., to a temporary home right in our backyard at CommunityAmerica Ballpark, the Wizards' game-day atmosphere has flourished. Rather than being played in an NFL stadium that was far too big, the retro-fitted Northern League baseball stadium has created an intimate, fan-friendly environment that has literally brought fans closer to the game while also allowing them to save a few bucks on everything from parking to concessions.
Fans have turned out in large numbers for the Wizards at The CAB. This season alone they've sold out six of their eight home games, and they had a standing-room-only crowd of 11,906 on hand to see them take on Beckham, Landon Donovan and the Galaxy.
The Wizards played without National Team members Jimmy Conrad and Davy Arnaud, but they still gave fans a local highlight to celebrate when Claudio Lopez buried a half-field shot during the first half that gave KC a temporary 1-0 lead.
While packed stands were important for the Wizards, it was more important for Beckham to live up to his end of the bargain that MLS expected when he signed his five-year, $250 million blockbuster deal with the Galaxy in 2007. First, Beckham actually needed to play in the game, which he did. More important, he needed to give the fans something special. While none of his trademark bending balls found the back of the net, he roused both cheers and boos from the crowd each time he set up for a corner kick. He also was credited with the assist on Donovan's game-tying goal.
Even more critical was that he not turn out to be the MLS villain that critics have made him out to be. After a highly publicized exchange of words with a fan a week earlier, Beckham dealt with one heckler Saturday by offering a handshake. In addition, he took time after the game to sign autographs and pose for photos with fans. He even gave a fan his game-worn jersey and then showered the local fans with compliments.
"There was a great reaction tonight from the fans," he said in his post-game comments. "When you go to away stadiums, you don't expect to have anybody on your side. Tonight it was a great atmosphere: lots of families, lots of kids, and a lot of people who seemed to enjoy the game. So I hope they went home happy, and it was nice to have their support because it was a really nice atmosphere to play in."
Although the Wizards didn't get the victory they wanted, a tie against the red-hot Galaxy was a positive result. The packed house, the enthusiasm for Beckham and the solid on- and off-field performances by the international star were even bigger positives for a team that's looking to improve its position on the KC sports radar.
It was also a good night for the kids in attendance from the local soccer community — be it hotbeds like Shawnee and Overland Park, or areas where interest in the sport is on the rise, like Bonner Springs, Basehor, Tonganoxie and Lansing. They got to watch one of the game's all-time greats (Beckham), one of America's rising stars (Donovan), and the best goalkeeper in MLS history (KC's Kevin Hartman) up close and — at least for one night — see how the game is played by the best of the best.