BLHS

ace pitcher earns roster spot on elite squad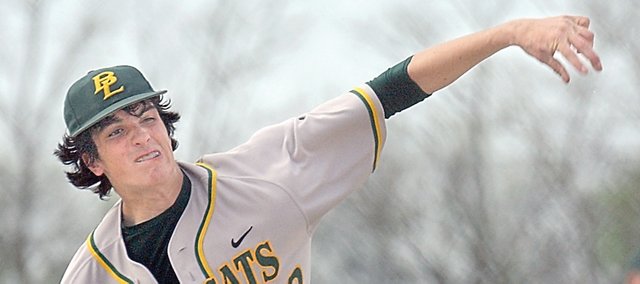 Tyler Henley received the phone call that he was hoping for earlier this month.
It was an official from the Area Code Games telling Henley that he had been selected to play on the Chicago White Sox Area Code team in August in Seattle.
Henley was somewhat surprised by the call, but also elated.
He had gone through two sets of tryouts, first in Emporia and then at Owasso High School in Oklahoma to make the team. He was selected as one of the top 50 of 480 players from around the Midwest who had gone out for the team.
After pitching at the second tryout, Henley said he didn't think he would be playing on either team because his stuff that day wasn't as good as he would have liked.
Now that he has been selected to play as a pitcher and outfielder, the whole experience is surreal.
"It is kind of weird," he said. "I didn't consider myself to be in the top 50 out of all of the players in the Midwest, and it's kind of surprising that I am, but I am excited. When they called they said it is not a letdown not going to California, be glad to be going somewhere."
There are two main benefits to playing in the league; first is the experience of playing in major league baseball stadiums. The games will take place Aug. 16-20 at Safeco Field in Seattle and at a minor league ballpark in Everett, Wash.
The tournament will feature eight teams with elite players from around the United States.
The second advantage is exposure to scouts looking for talented players to join their college or professional teams after high school.
Henley will play for teams that are coached by scouting officials from major league teams, he said.
There also should be professional scouts and college coaches in attendance and Henley hopes to impress them.
The tournament is all part of the recruiting process. Henley has spoken with Kansas State University, Texas Christian and several other NCAA Division I schools. He has also spoken with several community colleges and figures to gain more exposure by playing in Seattle.
In the meantime, he is competing in other showcases that have coaches from other schools in attendance, and opportunities appear to be abounding for the aspiring player.
"I am tickled for him; he has earned it," said Steve Henley, Tyler's father. "He has talked really well to the coaches and really matured throughout this process. I am very happy for him; this is what he wanted to do."
As for the future, Henley isn't sure about what will happen after the Area Code games, but he is excited about it.
"I have been talking to people, but not thinking all that much about it," he said. "In the fall, I will take visits and start making up my mind then."