No brakes? No problem for area cyclists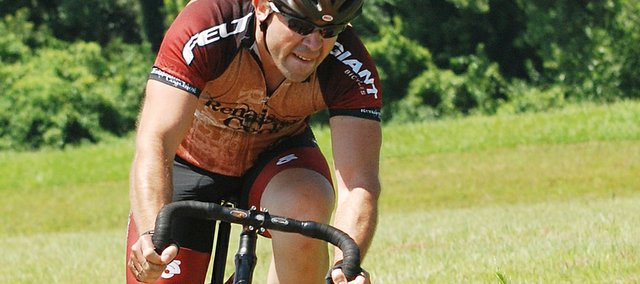 Photo Gallery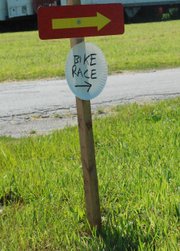 Kansas Track Cycling Championships
The Kansas Track Cycling Championships took place on Sunday, July 26, 2009.
By the time he had finished his first 500-meter time trial — one and a half loops around the 333-meter grass and dirt track — Jef Bishop was wheezing.
"This is absolutely the hardest cycling discipline," he said. "It's a minute and a half to two minutes of totally gutting yourself."
The event that had Bishop gasping for air on Sunday was the first-ever Kansas State Track Championship, a bicycle race organized by localcycling.com and the Slimenundgrossen cycling team.
Organizers created their own track on undeveloped parkland in the river bottoms area just outside of Bonner Springs near 47th Street and Frisbie Road, and they hope the race will become an annual event for cyclists ready to race with one gear and no brakes.
Mark Thomas of localcycling.com said local cyclists already have other options to compete. In Shawnee, there is the Grote Prijs cyclocross, a Belgium-born, steeple-chase bike race designed for the winter months, and track racing is a sport found all over England and Ireland.
He explained that participants use bikes with no brakes and a gear system in which the pedals and wheels must move at the same time, so there is no coasting or back-pedaling. After 500- and 1,000-meter time trials, many of the 25 cyclists who braved the heat and allergens for the event participated in a 24-lap, group "scratch" track race, which can get interesting when the cyclists have no brakes.
Track races often take place on indoor tracks called velodromes, but in the British Isles, towns make use of their local soccer pitches to build outdoor tracks. So Thomas and a few others came out to the remote parkland over several days to measure, mow and level out the track.
Thomas said despite the rough situations that can arise in a scratch race, in Great Britain, track races are family-friendly events that he would like to replicate for Kansas cyclists.
"A track race has etiquette — you have to when you have no brakes," he said.
Most of Sunday's participants came from the Kansas City area, but one cyclist came all the way from South Dakota, and Gina Poertner traveled from Emporia to officiate for USA Cycling.