Rural locale entices music video crew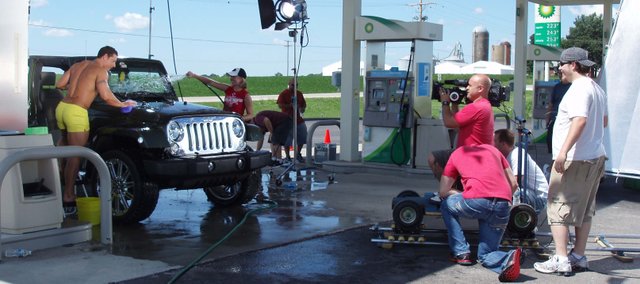 Los Angeles, New York and Nashville may now have to tip their hats to another area recently added to the list of popular music-making locations.
Well, music video-making locations that is.
Cast and crew from the music video "Harley Man," written and performed by Pennsylvania-based country singer Raina Bauman, this month breezed into the Bonner Springs-Basehor area to shoot part of the video at the Lake Stop convenience store, 15621 158th St. Much of the storyline for the video revolves around the goings on at a gasoline station, and while scouting for possible locations, producer Valerie Anderson suggested checking out the area. She said the Lake Stop was exactly what they were seeking.
"The Lake Stop was the first gas station we came to, and it was perfect," said Anderson, who works with Lenexa-based production company Outpost Worldwide. "The location in Bonner Springs was great and it fit our needs perfectly. And we couldn't have asked for a more beautiful day. We had bright blue sky and we had green fields. It really looked great, and everyone we encountered was great."
Director and scriptwriter Dallas Henry runs his own production company in Los Angeles called Wheatfield Productions, and is the director of such music clips as the Barenaked Ladies' "Wind It Up," a highly successful video on YouTube, and Craig Morgan's "International Harvester," a video that rose to the top 20 Country Music Television videos of the year in 2008. Originally from Wichita, Henry now shoots predominantly country music videos and says he often travels to Kansas to do so.
"I work with Nashville artists," Henry said, while noting that this had been his first time shooting a video in the area. "But if I can talk the artist into shooting in Kansas, I shoot 'em in Kansas, because of the scenery."
The storyline of the video involves a dream sequence where Bauman sees a number of men while stopping at a gas station but eventually sets her sights on a handsome Harley-Davidson-driving man. It called for more than 100 motorcycles to be used during the shoot, which went on from 7 a.m. to about 9 p.m. Sunday, July 19. Anderson said Gail's Harley-Davidson, of Grandview, Mo., not only supplied the bikes but also organized enough people to ride them during filming. Eric Myers, a salesperson with Gail's Harley-Davidson, also provided his own personal services: He plays the part of the man driving the Harley with whom Bauman eventually rides off into the sunset.
"It's a great, awesome dealership," said Bauman of Gail's Harley-Davidson. "(Myers) was right out of typecasting, I couldn't have dreamt this guy up. When I saw this guy, I was like 'Wow.'"
This was the first music video shoot for Bauman, who will soon be releasing her first 10-song record, also titled "Harley Man." She says all of her songs are based on personal experiences, so much so, in fact, that she refers to them as "heart songs."
"Harley Man," Bauman said, was inspired by a former boyfriend with whom she is still friends and who originally introduced her to the thrill of riding motorcycles.
"Ever since that time, I was just kind of bitten by the ride," Bauman said. "Other people that ride bikes are first-class people. There's a real camaraderie and no matter where I go, I experience it. I love it."
Henry said the experience was one that would definitely bring him back to shoot more music videos in the future.
"It went really well," Henry said. "I mean, I've been doing this for a while … but I thought it went really smoothly."
Bringing in a number of bike riders and more than a few curious residents, thirsty on a hot day, couldn't have hurt business at the Lake Stop either, he says.
"I think they sold more Slurpees that day than ever," Henry said. "The Lake Stop was it! For Slurpees and video making."
The music video for "Harley Man" is expected to be completed in a couple of weeks and should be available for viewing on several Web sites, including bonnersprings.com, youtube.com and outpostworldwide.com.