Side Pockets closes; blames economy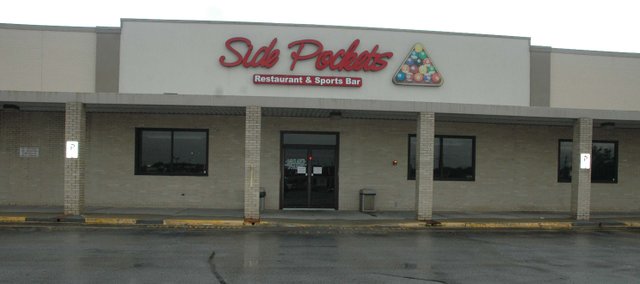 As more new businesses pop up in the area, one long-standing Bonner Springs business has finally become a product of the current economy.
Side Pockets closed its doors Wednesday, July 22, after being open for almost 4-and-a-half years. With the majority of clientele ranging from plumbers to electricians to construction workers, owner Richard Hawkins said the lack of sales at Side Pockets was reflected in the lack of hours these workers had been receiving of late at their jobs.
"As their work has fallen off, a lot of these people are either out of work or working a lot fewer hours," Hawkins said. "So they don't have that discretionary income to come here on a regular basis and enjoy our food, our drinks and our pool. And what's happened is our business has declined from a high three years ago to the point now where we're probably 38 to 40 percent off of where we were at that time."
That 40 percent drop, Hawkins said, had been enough to close down his bar and grill. He said he had started seeing a decline a year-and-a-half ago, but hadn't started to worry until this year, when sales began to drop significantly. Though cutbacks were made, last week's closing was an eventuality he couldn't have prevented, Hawkins said.
"We cut back our payroll, we cut back our overhead, we watched every penny that went out the door, we were as lean as we could be," Hawkins said. "And yet the economy is such that people didn't have the money to come out and spend the dollars doing this."
A Side Pockets in Olathe will also be closing its doors, Hawkins said, which still leaves several open in the Kansas City metro area. Some of the Bonner Springs employees will be finding work at one of these locations.
For others, the closing has effectively put them out of work and on the hunt for yet another job.
"Most of them it's gonna be too far for them to travel so, consequently, they'll just have to seek work elsewhere," Hawkins said.
As for Hawkins, he says he will stay afloat. He is co-owner of a Side Pockets in Lenexa and also maintains ownership in Side Pockets Franchise Systems, Inc. He said this may not be the last Bonner Springs has seen of Side Pockets, however. Though too early to tell, possible future uses of the building may include opening up another bar and grill, Hawkins said, or turning it into another Side Pockets once the economy improves.
His current situation is one that doesn't quite defy the idea that people drink more in a recession, but just goes to show that people are more apt to choose the cheaper option of a liquor store than head to their local watering hole when times are tough, Hawkins said. He said it wasn't a lost cause for anyone interested in opening a new bar at this time, but that it would be hard going, guaranteed.
"I think it's still going to be a tough business market for at least another year, year-and-a-half," Hawkins said. "And if someone wanted to work through this for that amount of time, and had the wherewithal to do it, than I would say good luck to 'em."
Hawkins said, for him, that waiting game was one he simply wasn't interested in playing anymore.
"Being 65 years of age, I don't have the patience to wait for the comeback if you will," he said.