In the senate
Tom Holland reflects on time in Topeka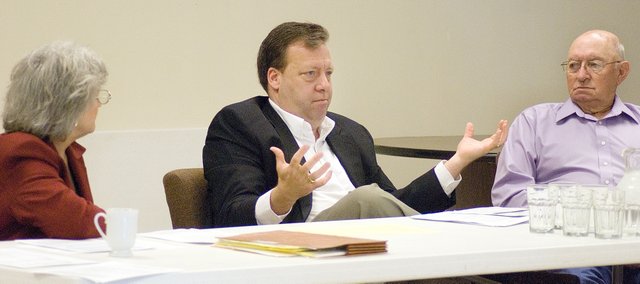 Q: What is it like being a new senator for Kansas?
A: It has been very enjoyable and very challenging at the same time. I have learned so much since I began, and the work has certainly kept me busy. But I have been enjoying it very much.
Q: How do you feel about the 2010 state budget?
A: I don't think anyone is completely happy with the way everything turned out. Obviously, it's a tough time. We had some very difficult choices to make, and we chose the least offensive path. I voted for the package I thought would do the least long-term damage. No one's totally happy, but we did what we could to prevent long-term problems.
Q: Were you pushing for any items during the legislative session that were not approved?
A: I was disappointed that we were unable to do more to change caps on disability funding. I hate to see people fall through the cracks, and I wanted to be able to help our workers here in Kansas. We started some discussion on the subject, but not a lot of progress was made.
Q: What is one thing that makes you proud coming out of the 2009 session?
A: I'm proud of my involvement with KTEC (Kansas Technology Enterprise Corporation). I'm on the board of directors for KTEC now, and we've started making some positive changes with it. It's a great corporation, and I'm excited about the work I will be able to do with it.
Q: Are you working on any projects for the immediate future?
A: There's always projects to push for later. This session was about familiarizing myself with the Senate and my fellow senators. This has been a learning experience for me, and it's given me some valuable knowledge.