Shrine on: More than 7,500 flock to fairgrounds for rodeo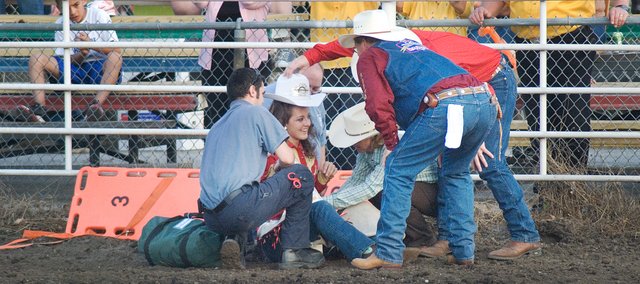 Last year there was only one way to describe the Abdallah Shrine Rodeo: Muddy.
This year, the only way to describe the rodeo arena: Dusty.
But that didn't stop more than 7,500 people and more than 300 competitors from coming out to the Leavenworth County Fairgrounds for three days of rodeo fun.
"It went really well and we were all very pleased," said Ruth Nicolaus, rodeo spokeswoman. "The crowd was really into it. I enjoyed hearing them. You could really hear them laugh."
The Shriners wrapped up the competition on May 23. The rodeo weekend started Thursday, May 21, when the Shriners crowned Hannah Hilsabeck, Winterset, Iowa, this year's queen.
Hilsabeck said this was her first rodeo queen pageant and she was just going to use the Shrine Rodeo as practice.
"Surprisingly, I won it, so I was pretty tickled about that," she said.
Hilsabeck beat out Cheyann Taylor and Rachelle Smiley of Tonganoxie, Amy Hudlemeyer, Maryville, Mo., Lexi Potter, Wakarusa, and Brittanie Horseman, Weston, Mo. She succeeded Alyssa Morison, Bonner Springs, who was the 2008 queen.
Although most of the weekend went great for Hilsabeck, she did have a little scare on May 22, when she came out onto the arena on her horse Cicada during the queen's run.
As she was making her way to the south grandstand, she and her horse hit the guardrail. She attributed the accident to a mixture of her horse being cooped up for three and half hours as they traveled from Iowa and a little bit of rider error from her part.
"I'm OK," Hilsabeck said. "I was a little scared at first because I had some pain around my ribs, but I checked out fine so we're good."
Other accidents befell some of the contestants.
On May 23, Spencer Turner, formerly of Basehor, had his foot stepped on by a horse after he was bucked off during the saddle bronc competition. He had to be helped out of the arena and was examined by emergency personnel.
Turner did not immediately return The Mirror's phone calls, but Nicolaus said she received a text message from Turner with an update on his condition. She said she wasn't sure if the fourth or all four metatarsal bones in his foot had been broken or crushed, but she knew he wouldn't be competing for a while.
"The doctors told him he won't be able to walk for three or four months and he won't be able to run for five or six months," She said. "But these cowboys are tough."
She said she wouldn't be surprised to see him competing before the end of six months.
Other locals competing in the rodeo were Travis and Angela McGraw from Tonganoxie, who competed in the team roping and barrel racing competitions, Justin Williams, De Soto, who competed in the bareback competition, Linda Kay, Lawrence, who competed in the barrel race, and Donnie McNeece, McLouth, who competed in the team roping.
McNeece, along with his team-roping partner J.D. Holland, Bucyrus, was the only contestant to place. The pair managed to rope in the steer with 6.7 seconds, earning them sixth place.
Nicolaus said the Shriners already are making preparations to return for another year.