BLHS

sophomore savors state experience
Prioleau relishes chance to compete at state, eager for return trip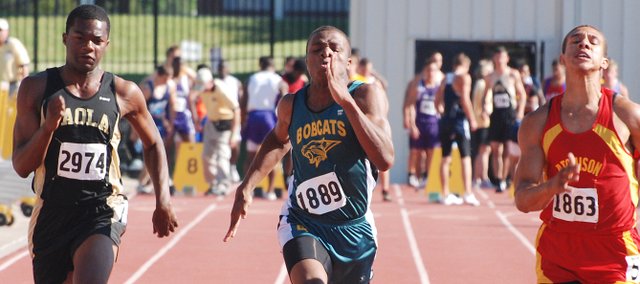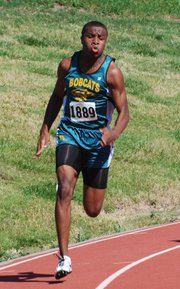 Daniel Prioleau led through the first 10 meters of his 100-meter heat on Saturday at the Class 4A Track and Field State Championships.
Inside of Cessna Stadium in Wichita, with a huge crowd of onlookers and runners from every class, Prioleau was in front.
It was the biggest meet that he had ever run in and after a sluggish 200 on Friday, Prioleau was attempting to qualify for finals in the 100.
After 10 meters, he continued running hard but the field caught up to him and he dropped to the middle of the pack.
The sophomore runner, who moved into the district from Georgia, showed a burst of speed at the end of the race, but finished fifth in his heat with a time of 11.55 seconds.
He finished 11th overall in the 100.
"He did not look as nervous and not as tight. He ran a lot smoother today," coach Jarred Fuhrman said.
Prioleau said he wanted to run a 10.9 in the race, but he was pleased with his performance.
"I think I competed. The 200 I don't really think much about, but the 100 I think I competed really well in it," he said. "I tried really hard and tried to get a good time to qualify for the finals."
While he missed finals, he got to experience what a state meet is like. He also said that he settled down for the 100 after being pretty nervous before running in the 200.
"(For) the 200 I was real nervous. I was like 'oh, crap I'm in the 200 at state,'" he said. "Today I was like, 'I'm pumped for this stuff. I'm ready to do it.'"
The experience was new for Prioleau. He had never qualified for state. Prioleau moved to Basehor-Linwood from Georgia where he was injured in the county meet and failed to qualify for the state meet.
As a result, he was eager to experience a state meet.
"I expected fireworks and airplanes flying over the stadium and stuff. I guess I expected a lot of people here like at the Olympics," he said. "It's about five times bigger than a regular track meet in high school.
"When I first saw the stadium I was like 'woah, we're here.' I was surprised by it. But it's really good to be here, just the exposure, so next year when I come here I'll be more ready for it. I'll be experienced and I'll be ready for it."
He already is looking toward the future.
"I just want to get back here and get a medal, like third overall or second overall, and keep improving," he said.
Prioleau said he plans to focus on overall conditioning as a way to improve his speed in time for next season.
"First I'm going to relax, going to hang out with some friends, going to go to football camps and speed camps over the summer," he said. "Then during the winter I'm going to be in offseason conditioning and work in the weight room with (BLHS strength) coach (Ross) Schwisow and try to get stronger and faster."
Prioleau was the only Basehor-Linwood track athlete to qualify for state. Fuhrman said he hopes that other athletes will be motivated by Prioleau's success and seek a state trip of their own.
"I am looking forward to next year and the great year that we should have in store for us," Fuhrman said. "Another summer of weights, gaining strength and speed, and the Bobcat track team will look to be a force next year."
— Sentinel sports editor Chris Wristen contributed to this report.