KCK

neighbors turn wine hobby into new business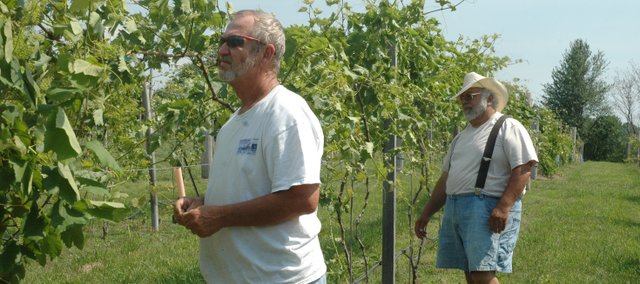 When it comes to wine, it's a bit of a family thing, says Kansas City, Kan., resident Sal Coco.
Brought up in what he describes as a "conservative" Italian family in upstate New York, Coco is now co-owner of the Wine Barn, a winery and wine tasting business he runs on his own property with his wife, Marie, and neighbors Denise and Scott Hiatt. The Wine Barn is the culmination of a lifelong interest in wine passed on to Coco from his wine-making father.
"My father used to make wine all the time," Coco, who has been making wine himself for more than 25 years, said.
The Wine Barn opened May 9 but its roots were put down 20 years ago, in 1989, when Coco moved to the property on 2850 N. 119th St., and started a hobby vineyard. Back then, he said, he used to make wines out of his basement for fun.
In 1995, the Hiatt family moved next door to Coco and his wife. Over the years, Coco's passion for wine-making inspired a similar one in his neighbors and, in 2006, the two families signaled their intent to make this passion more than just a hobby with the planting of an additional vineyard, which now has 250 grape vines producing 80 percent of the wines made at the Wine Barn. The other 20 percent of the wines, Coco said, are made from California grapes.
More vines are currently being planted in the joint vineyard that will create more wine-producing grapes in the future, Coco said. The idea, he said, is to, quite literally, keep growing.
"We hope to grow in size as far as the amount of wine we make," Coco said.
The 16 wines currently produced at the Wine Barn range from the sweet, such as the semi-sweet Riesling and the very sweet Concord Sweet, to the dry and full-bodied Cabernet Sauvignon.
Wines are available for purchase by the bottle or by free sampling. Every Saturday and Sunday, the joint partners open the hub of their business — an actual barn where the wine is made and sold out of — for anyone to come in and hang out while enjoying free samples of wine.
The Wine Barn offers two different flights of samples — a sweeter "sunrise flight" of seven samples, and a dryer variety, called the "sunset flight" of six samples. Four specialty wines are also available for tasting by appointment.
The grapes used in most of the wines for sale were picked last September, Coco said. He said it is the process of making the wine — a long one that can take three to four days just in the fermentation phase and then three months to a year for the wine to age properly — and the mystery attached that he finds the most rewarding.
"I enjoy it 'cause you start with all this product, and you know all this technical stuff, whatever it is … but you have to wait until you get to the final product to know that it's gonna be excellent," Coco said. "You have confidence it's gonna be good, but you don't know you've got an excellent wine until the end, so to speak."
Whether good or excellent, Coco said the wines had definitely been selling since the May opening.
"All the people that have been coming really find them enjoyable," he said. "Everybody that's come has bought a bottle at least."
The Wine Barn is open for wine tasting from noon to 5 p.m. every Saturday and Sunday or by appointment. For more information, visit winedottbarn.com.