Ladies enjoy night out for charity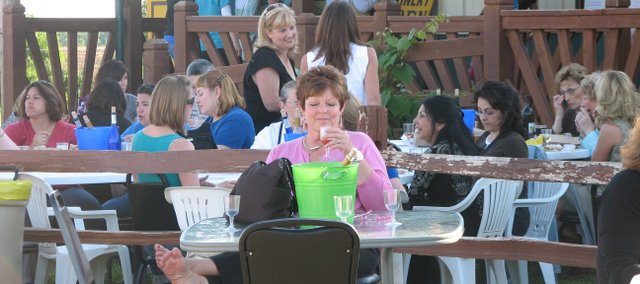 Cars filled Holy-Field Vineyard and Winery's parking lot on the night of May 28 and spilled out into its lawn and further still down 158th Street.
Women in the Basehor community were eager to get to the winery's Ladies Night, which featured wine tasting, dinner, music, a silent auction and local vendors selling their treasures.
This is the second year Holy-Field, 18807 158th St., has played host to the event, which benefits the Safe Harbor Dogs program. Last year the event raised $2,464, and this year Ladies Night brought in more than $4,000 from $10 ticket sales and the silent auction.
"It was just fantastic," Holy-Field manager Mandy Hampton said. "We went far beyond our goal of $3,000, which is so great."
Several businesses in Basehor and surrounding areas contributed to the silent auction, including the Kansas City Chiefs and the T-Bones. Vendors traveled to the bash with products from their companies that they displayed and sold to winery visitors that night.
Aside from the food, wine and shopping, the ladies had VIP access to a fashion show featuring items from the Pink Zebra boutique in Bonner Springs.
"The fashion show was new this year, and it was a lot of fun," said Melanie Morris, who attended the event.
Morris said she had been both years, and the 2009 Ladies Night took the cake.
"It was too much fun," she said. "The weather was perfect, and it was a great excuse for all us ladies to get out and catch up with old friends. Plus, the wine is always yummy."
Deb Crum, owner of vegetable and herb company Crum's Heirlooms, was one of the vendors who set up shop that evening, and she said she enjoyed the experience.
"This is such a unique thing," she said. "I can't believe I didn't hear about it last year, but I (had) a great time. We've had a lot of interest, and this is a great setting to talk to people about the business."
Hampton said about 250 women and vendors attended the function. Each person who attended Ladies Night helped Safe Harbor, but Hampton said some women went the extra mile and brought items to donate to the program.
"We ended up with a trunk load of goodies for the dogs," Hampton said. "So many women brought collars and leashes and chew toys, and we just couldn't be happier."
Hampton said 2009 would definitely not be the last year for Ladies Night. The winery is planning to have an even more extravagant celebration in 2010.
"We had a great turnout this year, and we heard so many positive things, so we're just going to have to make it bigger and better next year," she said. "It's a really fun thing, and we'd like to keep that going."
For more information about Ladies Night or any of the winery's future events, contact Holy-Field Vineyard and Winery at (913) 724-9463, or visit its Web site at holyfieldwinery.com.