Longtime Bonner Springs dentist, community leader dies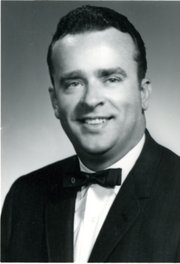 Marie Kelly can still hear the deep, happy laugh of her late father that she said could light up a room.
It was that laugh, along with an interesting sense of humor, that Kelly said is one of the most memorable things about her father, Dr. William D. Miller.
"He had an incredible sense of humor," Kelly said. "He loved a good joke and he loved a good story. If it was a little bit raunchy, the better."
Miller, 82, died Monday, June 1. He was born on July 7, 1926, in Burlington Junction, Mo. After graduating from the University of Missouri-Kansas City School of Dentistry in 1950, he and his wife of 60 years, Juanita Miller, moved to Bonner Springs and have been fixtures of the community ever since.
"I think he'll be remembered for his practice as a dentist," Kelly said. "People come by and tell us how much he helped them in that way."
Kelly can remember a story she heard growing up about just how dedicated her father was to his dental practice. Since moving to Bonner Springs, the Miller family has always lived in Lake of the Forest and during the 1951 flood, Kelly said her father manned a small boat and rowed his way out of the lake to get to his practice and patients.
Juanita Miller seconded her husband's dedication by saying she always had to convince him to take time from work to go on vacation.
"He would say, 'I can't be out of the office for two weeks,' and I would tell him, 'No one will remember 40 years from now that you were out of the office for two weeks,'" Juanita said.
Another memory of her husband's dental practice that had a significant impact, Juanita said, was that he would offer free service to the indigent children who worked with their parents in area crops.
"He set aside time for them only," Juanita said. "He just thought it was necessary. He was a very giving man. I think almost anyone you talk to would say he was a good guy and giving person."
His contributions to the community continued with his passion for real estate. Kelly said her father always told her that if he hadn't become a dentist, he would have done something with development or the financial markets.
Miller owned the land at Kansas Avenue and Kansas Highway 7 where the Wal-Mart now sits. He sold the land to Wal-Mart allowing the city to get one of its largest businesses.
But Miller was about more than just work.
His family was number one, which included his wife, three children — Marie Kelly, New York, N.Y., Marcia Lage, Kansas City, Mo., and William Miller, Bonner Springs — and his eight grandchildren.
"He was an amazing father," Kelly said. "He was beloved by all his children and grandchildren."
Miller was also an avid sports fan. Kelly said she can remember watching her father walk the sidelines, cheering at Bonner Springs High School football games when the team used to play in Lions Park.
His love of family flowed over into his love for his friends and community members. Despite being legally blind for the last 10 years of his life, Kelly said her father made it a point to always call old patients, friends and people he'd met throughout his life on their birthday every year.
"He would put together sheets of paper with huge black writing, and he put down birthdays of people all over the country," Kelly said. "Every birthday they would get a call from my dad. People still tell me how much that meant to them. He was a real people person."
• An obituary for Dr. William D. Miller appears on page 17.