Museum exhibit shows women's war dedication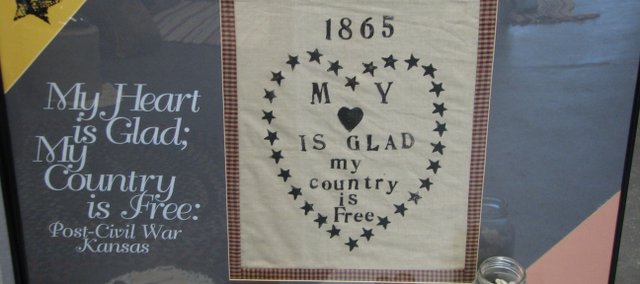 Though women were unable to participate directly in the Civil War, they played an interesting and important role in both the Confederate and Union causes.
The Basehor Historical Museum's new exhibit "Reflections on the War," which the museum received from the Kansas State Historical Society, depicts the way women contributed to the war efforts by making quilts.
These hand-crafted pieces were not only a source of warmth for soldiers; the quilts were also a way for women to inspire and communicate with the men.
"Reflections on the War" not only displays several quilts fashioned during the late 1800s, it also tells stories of courageous women who used all available resources to provide for men in battle.
"I really admire these people," museum director Carla Crawford said about women of the Civil War. "They went through a lot and did so many things, and there are so many neat stories here."
As the display explains, women began making blankets and quilts for soldiers at the start of the war.
Extensive time and care was devoted to each quilt, and women would often inscribe a message in one of the quilt squares to offer words of encouragement to men on the front.
"They used the quilts to bring news to the men or just say something to keep them going," Crawford said.
Crawford said the exhibit also suggested women used quilts to send hidden messages concerning enemy locations or Underground Railroad developments. Different patterns and colors had different meanings.
"Word has it, that was kind of like a secret newspaper," she said. "We're not totally sure it's true, but what an interesting way to send messages."
As the war raged on, materials became scarce. Women began selling their quilts to buy more thread and fabric to keep up with the demand for quilts in the military. Quilts were also sold to raise money for general military supplies.
To stretch their efforts as far as possible, women often cut a standard size quilt into three or four pieces that could be used for soldiers' cots. They also used old blankets, clothing and feed sacks to make quilts for a lower price. The quilts had to be made rapidly toward the end of the war at the expense of quality. Many soldiers were buried in their quilts, as well, so few of the original pieces survived.
This new exhibit is of interest to all, Crawford said, but quilters in the community should find it particularly engrossing.
"For the ladies here who quilt, this is really fascinating because it tells a lot about how quilting started," Crawford said. "People mostly make quilts now as a hobby or to decorate their houses, but these women quilted with a definite purpose."
"Reflections on the War" will be on display at the museum, 2812 N. 155th St., through June.
Visitors are welcome during the museum's regular and extended hours, 9 a.m. to noon and 6 p.m. to 9 p.m. Tuesday, 1 p.m. to 4 p.m. and 6 p.m. to 9 p.m. Thursday, and 9 a.m. to 2 p.m. Saturday.
For more information, contact the Basehor Historical Museum at (913) 724-4022.