Tornado chaser talks myths throughout 'Tornado Alley'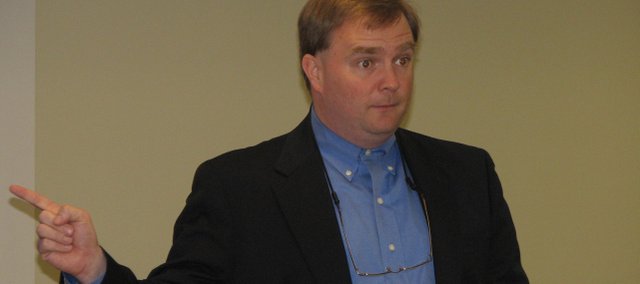 Tornadoes do strange things, says storm chaser Jay Antle.
Antle on Thursday night came to the Basehor Community Library to talk about his experiences on the hunt for storms and to set the tornado story straight.
Kansas is commonly referred to as "Tornado Alley," but Antle says this term is somewhat of a simplistic myth.
"Tornadoes are actually a rare phenomena in Kansas, despite what your out-of-town relatives might say," Antle said. "I know they ask you, 'How do you live in Kansas with all those tornadoes?' But the truth is, only one tornado happens per two counties in Kansas each year."
The Sunflower State does have a relatively high number of strong tornadoes, Antle said, but Colorado and Florida can stake claim as having the most tornadoes every year.
Antle said despite its prominence, the belief that topography protects certain areas from tornadoes is false. Some examples of these myths are Clay Center's valley position and Emporia's location between two rivers acting as protective features.
"These stories are everywhere," Antle said. "The truth is if a city hasn't had a tornado, they're just lucky. Tornadoes don't care. Everyone's time will come eventually."
Other tall tales about tornadoes relate to safety during the storm, Antle said. Getting in the southwest corner of the basement and opening the house windows to equalize pressure are a few widespread false pieces of advice.
"The best place to be in your house is in the basement, under something substantial," Antle said. "It doesn't matter what corner, just get under something secure. And the only thing you're doing when you open windows is delaying your entrance into the basement."
If caught in a storm while driving, Antle said the last action to take is to park under an overpass or get out of the car and lay under a girder.
"Stopping under the overpass isn't going to help you, and you're just clogging up the highway," Antle said. "People have been killed because they were under overpasses or girders when a tornado hit. That bridge will collapse, and then you're pinned."
During his years as a chaser, Antle has seen storms play some mysterious hands. He said tornadoes had the potential to evolve in minutes from a huge wedge-shaped, destructive powerhouse into a snake-like funnel that stretches out and slithers quietly through the sky, back into the clouds from which it emerged.
"Every time I go out, a storm confuses me," Antle said. "Every storm is different."
Though such a line of work involves much risk, Antle said he loved doing it and would continue to do so as long as he could.
"I chase because I love the landscape, and I'm fascinated by storms," he said. "I could watch a storm cell develop for hours. But I also chase because I'm on the search for the best truck stop country fried steak."