GOD

TV

owners purchase mansion near Linwood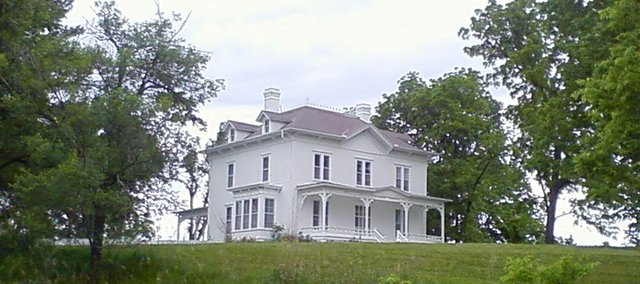 Linwood — Linwood is not Hollywood, but the small Leavenworth County town of about 400 people is now home to a pair of international TV personalities.
The historic Harris House — a 15-room, 1883 mansion west of Linwood — was recently bought by the co-founders of GOD TV, an international Christian television network that is available across the United States on the DirecTV satellite system.
Rory and Wendy Stephen, who in 1995 started the Christian television network in Britain, bought the home and its 11 acres in mid-April, according to records at the Leavenworth County Register of Deeds office.
But don't expect Linwood to become the new headquarters of GOD TV. Even though the historic house has previously been used for conferences and special events, an executive for the network said there were no plans for the house to be used as part of GOD TV's operations.
Instead, the Stephans – best known by their on-air names of Rory and Wendy Alec — purchased the home to serve as one of their private residences, said Jeffrey Levinson, an executive for the network's U.S. operations.
"The attraction of this particular property to the Alecs is that it has stunning grounds and will make a wonderful family home," Levinson said via e-mail.
The home is a showpiece in Linwood. The house is on the National Register of Historic Places. It was built by former U.S. Sen. William A. Harris who, during the late 1800s, was active in the area as a buyer of land for the Union Pacific Railroad.
"It just has beautiful architecture inside and out," said Steven Hertzog, who along with his wife sold the home after moving their photography and marketing business to Lawrence.
Levinson said he wasn't sure how often the couple would be at the property.
GOD TV is now based in Jerusalem and has U.S. offices in Washington, D.C., and Orlando, Fla. The network also has international offices in South Africa, Kenya, India and China, according to its Web site.
According to the Web site, Rory, who serves as CEO of the network, is a native of South Africa, while Wendy, the network's director of television, was born in England and grew up in South Africa. Also according to the site, they have two children.
The duo regularly host events on GOD TV, such as the Global Day of Prayer celebration later this month, and a program called "Apocalypse and The End of Times."