Wyandotte County ranking no surprise to health officials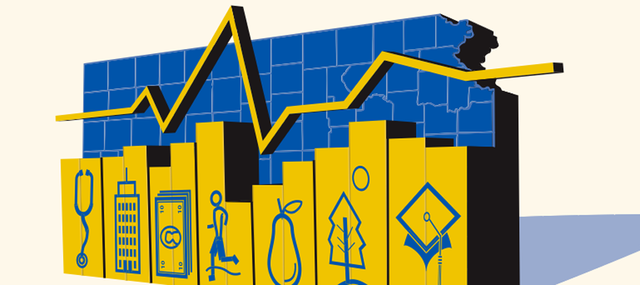 Related document
A first-ever study of health rankings didn't bode well for the health of Wyandotte County, which finished 105th out of 105 Kansas counties.
The study, conducted by the Kansas Health Institute, ranked the home of Bonner Springs, Edwardsville and Kansas City, Kan., as the least healthiest county in the state. For several officials in the area, the last-place finish didn't come as a surprise.
"We live in an older, urban environment so a lot of our ranking was based on socioeconomic factors," said Joe Connor, director of the Unified Government of Wyandotte County Public Health Department. "I wasn't surprised, but I hope that folks are not apathetic toward (the ranking), and they take a look at certain areas and play a part to make it better."
Some of the areas of the study hitting Wyandotte County the hardest was the high number of children living in poverty, the high number of single parent households and high unemployment rates.
Connor said it was important to understand the study is not saying Wyandotte County needs more doctors or more hospitals. What the study does instead, he said, is take a look at a variety of health-related factors that include issues such as poverty and unemployment.
With the release of the study, Connor said he hopes county and state officials can get a better idea of where funds should be spent.
"We can use this as a template to set priorities for funding in Wyandotte County," he said. "That way we can channel our resources toward our biggest needs."
But work to improve the area had begun long before the study was released, Connor said. For the past eight years, Wyandotte County has been working on a project called Children's Campus, which will be built at 5th and Minnesota in Kansas City, Kan. The organization is focused on working with families to get children, ages 5 and younger, ready for school.
Connor also cited the county's recent outreach to teens as another successful improvement. By setting up MySpace pages with subject matter focused on teen pregnancy and sexually transmitted diseases, Conner said the initiatives could help with the county's poor scores in child poverty and single parent households.
Some of the strengths of Wyandotte County the study pinpointed were the low divorce rate, high seatbelt usage and low rates of children with lead exposure.
Connor said the seatbelt usage and lead exposure were both recent goals the county has spent much time working toward. With a grant from the Kansas Department of Transportation, seat belt education had increased in schools.
Also, about five years ago, Wyandotte County was ranked as having the highest lead exposure incidents in the state. After that information was released, the county received a grant. Connor said that grant allowed the county to begin doing more tests and lowering the exposure rate significantly.
"It's impressive how much a little focus and some funding efforts can make a difference on some of these things," Connor said.
And that's the message he hopes to take away from the KHI study. He said the people who released the study said they did so to spark conversation in communities about areas that can be improved.
"You really can't point to one group of people or one part of town or anything like that and try to make this report better," Connor said. "The effect of this report is far reaching and is something everyone can take a look at and make a difference."
Officials at Providence Medical Center in Kansas City, Kan., had a similar reaction to the study.
"It's really kind of eye opening for all of us," said Karen King, RN, vice president for patient care services at Providence. "When you see that, it really hits home. We need to use the data as an important tool to looking at making changes of our funding of programs."
King said that education in the prevention of illness, as well as wellness as a lifestyle, were going to be key factors in improving the ranking. While no one can deny the importance of treatment, King said, prevention is just as important and something Providence has always taken seriously.
With nationally recognized work in their diabetes and heart disease programs, King said Providence has worked, and will continue to work, on educating people about healthy life choices.
"(The ranking) didn't surprise us," King said. "It's just a fact that Wyandotte County has the lowest per capita income of the state, which is reflected in knowledge, income and access to health care."