Dairy Days 2009 a success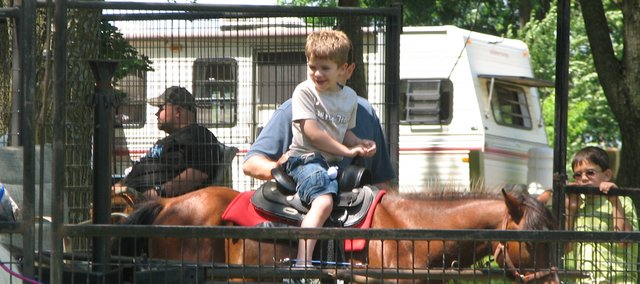 Anyone driving by the Basehor City Park Saturday could tell a party was in progress. Laughter and music could be heard down Leavenworth Road, and a larger-than-life cow towered above the park entrance, marking that site the clear location of the annual Dairy Days festival.
Dairy Days ran from 7 a.m. to 4 p.m. Saturday at the city park. The festivities commenced with a Chris Cakes pancake breakfast. Early in the day, dark clouds gathered overhead, and raindrops threatened to put a damper on the entertainment. Soon after, however, the sun came back out, and festival goers enjoyed a day full of pleasant weather.
Chairperson for Dairy Days Melanie Morris said the event was a success.
"We had so much fun," she said. "We were all happy with the amount of people who came out, and we had a lot of positive comments."
Some of the featured activities were a petting zoo, a magician, balloon animals and face painting and an appearance by the T-Bones mascot "Sizzle the Bull."
Several bands — like the Stranger Creek Band — graced the stage at the festival, and vendors set out tables full of items available for purchase.
Carlee Bunch, team manager for Tastefully Simple of Tonganoxie, had a tent set up that day full of gourmet food. Bunch has attended Dairy Days since it started in 2006.
"I love coming out here to do this," Bunch said. "It's a great way to spread the word about a business, and you get to see and meet so many people at one fun location."
Another attraction Saturday was a mechanical bull, which caught the eye of many young Dairy Days enthusiasts. Gayle Runnels was one of the people standing post at the ride, and she said it was a huge hit that day.
"It (seemed) to be a popular thing," Runnels said. "But we (had) a great time watching all the kids."
This year was the first time the festival had been at the city park, and Morris said this location had been well received.
"A lot of people asked why we hadn't moved it to the park before," Morris said. "The parking was so much better, and everyone appreciated the shade. And the park is just beautiful. All the improvements the city has made to it are really nice."
Morris said a Dairy Days committee was already planning the 2010 festival, and the members had every intention of using the park again. Each year, Morris said, the committee tries to outdo the previous Dairy Days, and next year's event is in motion to do just that.
"We try to bump it up every year," Morris said. "Plus, next year is our fifth year, so we really want to do something special. We don't really know how that will look, but we're already planning for it."
Several people contributed to the festival's success this year, and Morris said she wanted to thank all of them.
"The Lions Club helped us with parking, and several city officials were kind enough to volunteer their time," she said. "Also, thanks to all the crafters and musicians because those are the people who really make Dairy Days what it is."