KDOT

letter doesn't change council's mind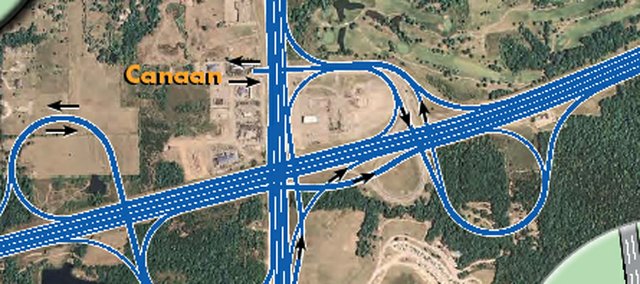 Kansas Department of Transportation's response to a letter regarding its design for the Kansas Highway 7 and Interstate 70 interchange hasn't assuaged the Bonner Springs City Council one bit.
"I didn't see any real concern on their part, just their pat responses," council member Jeff Harrington said Monday night during the work session prior to the City Council meeting.
Members of the council, as well as city manager John "Jack" Helin, had decided to send a letter to KDOT in the last part of April, outlining several problems they saw with the design. The letter was sent following an April 13 briefing the council had with KDOT and officials with GBA Architects Engineers about the interchange design, a tri-fold system of interchanges at K-7 and 130th Street, K-7 and I-70 and K-7 and Kansas Avenue.
Officials with KDOT responded in a letter of their own, received in the last week of May, addressing each of these issues with reasons why certain areas of the design should go ahead as is, in addition to offering some possible alternatives to satisfy the council. The letter opened and closed with an invitation to the council to meet again and discuss each issue further.
One issue in the council's letter was that 134th Street might be closed under the current project design, which calls for a new road, 136th Street, to be built in place of 134th.
"We are adamant about 134th Street remaining open as a connecting street between the north and south portion of our city," the letter said. "A through street west of 134th Street does not currently exist, and it makes no sense to place the burden on our city to build a new street in lieu of the existing (one)."
In response, KDOT said the design could easily accommodate this request.
Another problem the council included in its letter was the size of the southwest loop in KDOT's proposed system of interchanges, which the council believes is too large and compromises much developable land.
The letter noted that, in the April 13 briefing, the council had brought up the idea of using retaining walls instead so as to reach the same goal the interchange design would achieve but at the expense of less land. KDOT and GBA said this idea would be much too expensive.
"We believe this approach is penny wise and pound foolish," the council's letter said. "Taking away developable property because you do not want to build retaining walls could cost the state and city millions of dollars in future sales tax revenue."
In KDOT's letter, its response was that the loop needed to be that size to accommodate heavy traffic flow in that area, as well as to allow for a direct access point onto the east side of K-7. It said that KDOT had never completely out ruled the possibility of retaining walls.
"KDOT has agreed, as documented in meetings with the city and Tiblow Center developer, to build retaining walls where needed to accommodate their site plan," KDOT's letter said.
A number of other issues in the council's letter were addressed by KDOT, but members of the council acknowledged their dissatisfaction with the letter during the work session.
"They need to expand or explain (further), because they're very vague," Mayor Clausie Smith said.
Members of the council decided that, while discussions needed to continue with KDOT, it was time to bring others into the discussion pool, as well, starting with Basehor mayor Terry Hill and going all the way up to Kansas Gov. Mark Parkinson, in order to solidify their standpoint that KDOT's design must be changed.
"We want an alternative design that doesn't impact our developable property," Harrington said. "We deserve that. We deserve not to have Bonner Springs compromised. They have impacted us too much, and the governor needs to intervene, I think."
Both Helin and council member Tom Stephens warned that, before the council could approach others, it must first come to a consensus as to exactly what points should be brought up in these future discussions.
"If you want to see somebody above (KDOT), what are you gonna tell 'em?" Helin asked the council.
Pending agreement with KDOT, the City Council will have a special work session at 6 p.m. Wednesday, June 17. The council members will first meet in the back conference room at the Bonner Springs City Hall to prioritize issues they will then bring up with KDOT at 7 p.m. in the council chambers.
In other action, the council:
• Approved the minutes of the May 26 meeting.
• Approved supplement claims for city operations totaling $39,746.53 and regular claims for city operations in the amount of $452,736.45. The regular claims include, among others, a payment for construction on the new library.
• Approved Public Housing Authority claims totaling $1,360.90.
• Approved the contract for the purchase of a new Pierce Pumper fire truck.
• Approved the purchase of a 2009 Osage Ambulance through the Mid-America Regional Council / Houston-Galveston Area Council purchasing pool for an amount not to exceed $160,500. This amount includes the purchase of a Zoll AutoPulse, which is a device that can perform CPR mechanically. Emergency Services chief John Claxton said the city had two ambulances, one made in 2005 and one in 2003. He said the new ambulance was needed because the 2003 ambulance was seeing increasing maintenance costs and the warranty on its chassis had expired.
"The new vehicle will ensure our ambulance fleet remains modern, reliable and cost effective," Claxton said in a memorandum to the council.
• Heard the city manager's report. Helin said the new walking trail had been put in, but there was still some grading left to do. He also made note of the City Band concert series, which starts at 8 p.m. tonight, June 11, in the Kelly Murphy Park.
• Heard City Council items. Council member George Cooper said that people were driving too fast through the areas of Pine Street and Sheidley Avenue and Emerson Avenue and Murphy Street. He said there was also a problem with people parking on both sides of Pratt Avenue during ball games.
Council member Lloyd Mesmer said on the morning following the last meeting, he met with neighbors Cindy Jones and Teresa Tague to discuss their drainage problems. He reported he believed they were planning to take care of these problems on their own, and they were much happier after having one-on-one time with him than they had been after the City Council meeting.
• Heard the mayor's report. Smith said there would be a ribbon cutting and reading ceremony to open the new library at 1 p.m. Sunday, June 12. He said that each council member was invited to the reading, where everyone in attendance will read a book together out loud.
"Put it on the agenda, and come on down and enjoy it," he said.