Rally to bring hope to more than 100 survivors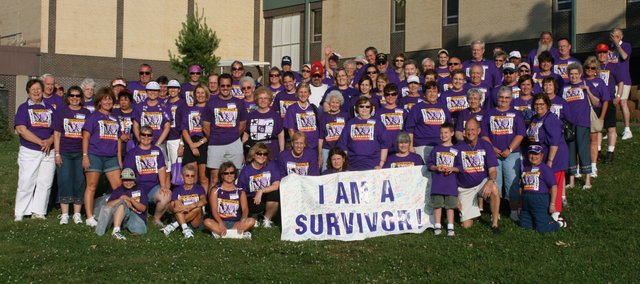 The Kaw Valley Relay for Life is this Friday, but the highlight for many might be the event directly preceding it.
More than 100 of those in the area who are battling or who have battled cancer are expected to attend the survivor rally going on just before the relay. The free rally consists of a dinner, door prizes and a banner ceremony where, every year, each survivor signs their name to the "I Am A Survivor!" banner.
The dinner has been given every year since the Kaw Valley Relay was started in 2003, and survivor committee co-chair Linda Long said it becomes more meaningful to those in attendance every year.
"We have a light meal prior to the (relay) to just provide the opportunity for survivors to meet with other survivors to share their stories and have an opportunity to just visit," Long said. "And now that this is our seventh year, many of the survivors know each other and have an opportunity to visit and update their friends with their stories."
As a survivor herself, Long knows of what she speaks. She originally got involved with organizing the survivor dinner when the relay was started by co-founders Sheryl Chadwick and Chris Sifuentes-Futrell.
Long was cancer-free at that time. Three years later, however, she discovered she had developed breast cancer.
"I saw it through different eyes," Long said of attending the dinner after she found out she had cancer. "It was very different for me to attend as a survivor. I felt like I could more clearly understand how (the survivors) felt and wanted to work even harder for the rally to be an event where they could celebrate their survivorship."
Long, who is now cancer-free again, said her experience made her realize how important an event such as the survivor rally is for anyone battling cancer, who may benefit from the support of those going through the same situation.
"I had a lot of support from my family and friends and co-workers, which made a huge difference," Long said. "But I also do feel a camaraderie with my cancer survivors, and I wasn't aware of that until I became a cancer survivor. My brother is a cancer survivor, and we have a connection that is different than with other family members. It's not one that we want, but it's one we have."
Peggy Beatty, a cancer survivor who has been involved with the relay since it began as well, can testify to the fact that the survivor dinner is as rewarding an experience as the relay. She said that newcomers would especially get a lot out of attending the dinner for the first time — particularly with dinner guests having such distinctive characteristics in common.
"(They) would find themselves so lifted up by being with people that have such courage and hope and resilience and tenacity," Beatty said.
The survivor rally will be at 6 p.m. Friday, June 12, in the Bonner Springs High School cafeteria and will be followed by the Kaw Valley Relay for Life at 7 p.m. Long said it's not too late to sign up. To find out how, contact her at (913) 441-1280.