Wyandotte County celebrates 150 years with emphasis on diversity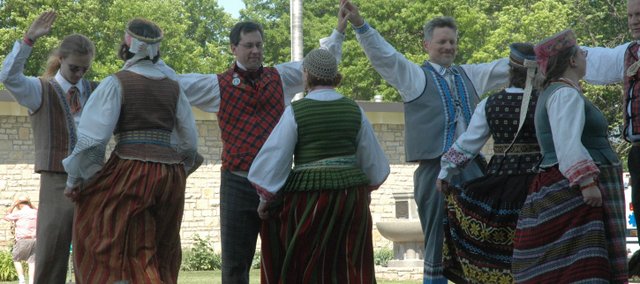 The diverse history and population of Wyandotte County was at the center of everyone's mind this weekend as people gathered to celebrate the county's 150th birthday.
With musicians, dancers and demonstrators from all different ethnic backgrounds, the two-day anniversary celebration was a true meeting of the minds. While most of the two days were spent being entertained and having fun, Sunday afternoon took on a special meaning.
"The Kansas City, Kan., Ethnic Council wanted to create a permanent monument for the next generation because how easy it is to forget," said Loren Taylor during the opening of an obelisk dedication ceremony Sunday.
The ethnic council has been working for 10 years to design and create a monument to honor the diverse history of the county. The obelisk, unveiled and dedicated Sunday, will stand in front of the Wyandotte County Museum and remind the next generation of the people who came before them.
"Our diverse background is what makes Wyandotte County so unique," Taylor said. "We have a tapestry of ethnic diversity."
There are 28 ethnicities listed on the obelisk that represent that tapestry of diversity, including the Shawnee, Delaware and Wyandot Indians, in addition to such ethnicities as African, German, Lithuanian, Greek, Croatian and Serbian, to name a few.
Following the unveiling of the obelisk, a representative from each of the listed ethnicities placed a rose at the foot of the monument.
Joining the dedication was Joe Reardon, Kansas City, Kan., mayor.
"I have a theory I've been working on," Reardon said. "I think every great place has a story to tell. The really great ones, people know the story. Part of what we're doing here today is celebrating the rich story that makes this county special."
He said it was the people of Wyandotte County that made up the county's story and he challenged all those present at the dedication to go out and share this story.
"Go out and tell the story anew," he said. "It's important to our children and grandchildren and it's what will make our great story even greater."
The sense of community was a feeling that carried through the entire weekend event, even beyond the dedication ceremony.
Carrie Milton, who works with the Unified Government, said she's lived in Wyandotte County her entire life and came to the event interested in learning more about her history.
She said Wyandotte County had a rich history that needed to be shared with future generations.
"Our history is very important. This is the Midwest. Everything is influenced from here," she said. "This is the heart of the nation. It wouldn't be called 'The Heartland' for nothing."