Relay for Life becomes a night of firsts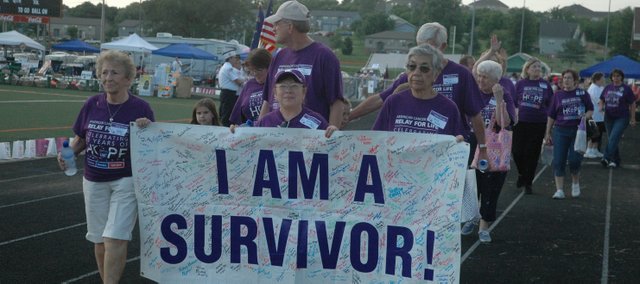 As she made her away around the track for the very first time, cancer survivor Janis Grace, of Shawnee, became overcome with emotion.
"It's awesome," Grace, who has been a survivor for 14 months, said of her first experience with the Kaw Valley Relay for Life.
But Grace's experience wasn't the only first to occur. Last night's Kaw Valley Relay for Life was a whole night of firsts.
The survivor rally, a dinner and raffle event that took place in the Bonner Springs High School cafeteria at 6 p.m. prior to the relay, had 125 survivors in attendance, which rally Co-chair Ann Schierts said was the largest number she had ever seen at the rally.
"It's awesome," she said, echoing Grace's sentiments. "It increases every year; the amount of people, the amount of teams."
As another first, this year's relay also saw the largest amount of team participation. Forty-three teams, including the gold and silver teams and the Walking Wildcats, participated in the 12- hour relay that lasted from 7 p.m. to 7 a.m. the next morning.
The event opened with master of ceremonies Ronni Philips, disc jockey with Q104 Country, introducing all 125 of the survivors in attendance at the rally as they entered the track going around the Bonner Springs High Football field.
"You guys are definitely the rock stars of this party tonight and you deserve it," he said
For more of this story, pick up next week's Chieftain, out June 18.