Basehor-Linwood's Manford, Seaman on
KVL

second team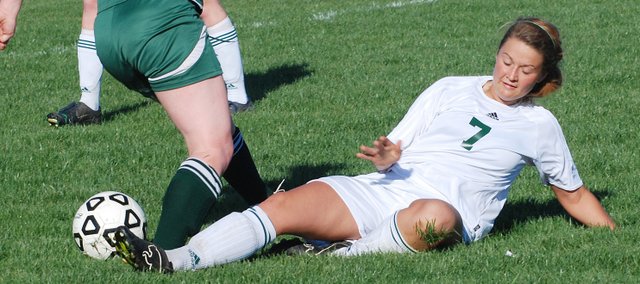 While collectively the team didn't experience the most success in 2009, Basehor-Linwood soccer players garnered postseason recognition for their play on the field.
The Bobcats had five players named to the All-Kaw Valley League team, which was voted on by coaches at the conclusion of the season.
The team didn't have a first-team selection, but it did have two second-team picks and two other honorable mention selections.
Elissa Manford was a second-team selection as midfielder.
"Elissa was a constant force in the midfield all year," coach Jaclyn Naster said. "She worked hard to improve herself physically and as a member of the team. I know that she plans to work hard in the offseason."
Melissa Seaman was a second-team selection on defense. She directed players on the back line, and helped fuel the Bobcats' improvement on defense during the season.
Seaman's leadership played a big role in the Bobcats' late-season success in the regional playoffs.
"She is a great defender and a natural leader," Naster said. "I can't wait to see what she brings to us for the next two years."
Lindsay Baxter was named as an honorable mention selection on defense. She settled into her role as a stopper in the team's defense and helped the team improve throughout the season.
Hannah Kenton was an honorable mention selection for her play at forward. Kenton works hard in practice, and brought enthusiasm to the field.
"There are few players with that intensity, yet she doesn't take herself too seriously," Naster said. "She was our offensive force and scored a lot of goals for us."