Council to consider tax rebate program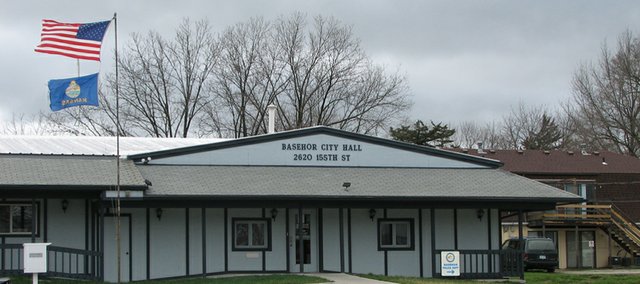 Basehor City Council is putting the ball in motion for a possible property tax rebate program.
At Monday night's work session, city council members and Mayor Terry Hill devised a plan to contact Leavenworth County, the Fairmount Township Fire Department, the Basehor Community Library and the Basehor-Linwood School District to organize a joint meeting at which the program will be discussed.
Police chief and interim city administrator Lloyd Martley will be working with building inspector Mark Lee to draft an interlocal agreement concerning the tax rebate program that would offer incentives to homeowners in Basehor.
During the work session, Lee gave a presentation about the program, saying it would be beneficial both to the city and to homeowners.
"We currently have 560 residential lots in new subdivisions sitting empty," Lee said. "This program could be coined the city's own little stimulus package."
Lee proposed a program that would apply to people who built homes within three years of its implementation. The homeowners would receive a property tax rebate of 95 percent during the first five years and 50 percent during another five years, for a total of 10 years benefiting from the program.
Lee said such an incentive would increase the amount of residents in Basehor, thus increasing the number of students in the school district and the amount of sales tax revenue the city would accumulate.
"Surrounding cities like Bonner Springs have tried similar programs and have been very happy with it," Lee said. "In these tough economic times, any effort put forth by a governmental entity to help citizens would be viewed favorably."
It was decided at the meeting Leavenworth County Commissioner John Flower would talk to the county about the program, council member Dennis Mertz would talk to the fire department and council member David Breuer would talk to the school district. In the absence of council president Jim Washington and council member Iris Dysart, a decision was not reached on who would speak to the library.
The county, fire department, school district and library would all have to commit to supporting the program in order for it to go into effect. A date will be set later for the joint meeting to introduce the rebate program.
Also on Monday the council:
• Conducted a public hearing for sewer and solid waste delinquent accounts. Ron Keopke and Jeff Scherer said they were being billed for charges that had been incurred by previous owners. City attorney Patrick Reavey said current owners could not be assessed for charges from previous owners. The council voted, 3-0, at the end of the hearing to direct the city clerk to assess a $100 administrative fee to each certified delinquent utility account and certify the list with the county clerk for placement on Ad Valorem tax roll for collection. If ownership has changed, current owners will not be accountable.
• Approved, 3-0, a proclamation dedicating the week of June 14 through June 20 as Business and Industry Recognition Week.
• Approved, 3-0, ordinance 556, stating appointments for boards and commissions will be designated at each board's and commission's last meeting in June and will take effect at the first meeting in July.
• Approved, 3-0, to appoint Judy Goens, Margie Barlow and Cindy Bartko to the Park Advisory Board; John Dockendorf, Ty Garver and Ken Massingill to the Board of Zoning Appeals; Kevin Jones and Bob Harrison to the Planning Commission.
• Approved, 3-0, to enter into an agreement with McAfee Henderson Solutions to assist the city with prioritization of street repairs in the amount of $13,000.
• Approved, 3-0, to authorize Hill to sign documents associated with the Kansas Department of Health and Environment state revolving loan and wastewater treatment plan expansion. KDHE needed the authorization to switch from former Mayor Chris Garcia to Hill.
• Approved, 3-0, the new map of Basehor designating its city boundaries as including recently annexed Cedar Lake Estates.