Runaway dog story gets happily-ever-after ending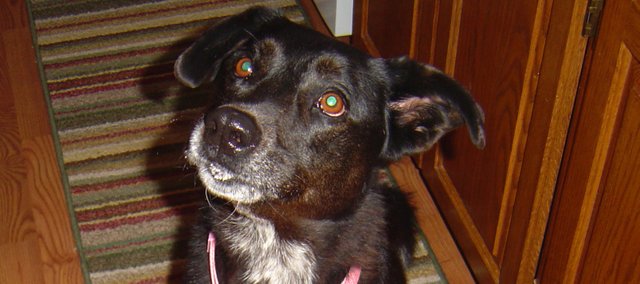 Leavenworth — It's been a wild four months for one Leavenworth County pooch.
Millie, a black 5-year-old pointer mix, has been reunited with her family after running away in February.
The Lamborns searched for Millie for several weeks after she disappeared from their Leavenworth home one chilly winter day. They looked around town and in the local shelters to see if anyone had found her. Eventually, they gave up.
"We figured something bad had happened to her," Rachel Lamborn said. "The whole thing was so strange because she never ran away before."
Little did they know, the Leavenworth Animal Control Shelter picked Millie up Feb. 27, and there she stayed for three months.
Millie's fortune turned around at the beginning of June when she was chosen to be the first dog ever fostered by the new Leavenworth County Humane Society. The humane society was in its beginning stages, so when Millie was selected to be fostered by the organization, she went to live with the society's director, Crystal Swann Blackdeer.
"I was surprised she hadn't been adopted," Blackdeer said. "I spent a couple of hours with her that day brushing, washing, playing, walking, seeing how she did with the shelter cats. I thought she'd fit in with our gang at home, so we gave it a shot."
Training started early with Millie, as Blackdeer was preparing her for placement in a new home. Blackdeer also changed the dog's name to "Bella" to give her a completely fresh start.
"She was easy to handle on a leash and housebroken," Blackdeer said.  "Being in the kennel is stressful to the dogs, though, and it made her a bit jumpy and barky. Once I got her home, and she could run around the yard, she got lots quieter and calmer.  She's very people oriented."
Simultaneously, the word was spreading about the budding humane society and its first dog. On Friday, June 5, a Leavenworth newspaper published an article about the new humane society with a large color photo of Bella aside the story. The Lamborns received a copy of the paper that day, and Rachel was the first to notice the resemblance between this dog and their lost dog.
"I got so excited," she said. "I said to myself, 'Uh, that looks a whole lot like my dog.' But I didn't want to jinx it right away."
The family contacted Leavenworth Animal Control, and one of its employees called Blackdeer. Blackdeer then took Bella out to the family's residence, where she verified that Bella was indeed Millie, the Lamborns' lost pet.
"They had a great photo of her, and she was obviously at home there and very happy to see them all again," Blackdeer said.
After the joyful reunion, the Lamborns went to the Leavenworth shelter to fill out the proper paperwork and reclaim the family member they'd been missing.
Though Blackdeer misses caring for Bella, she's glad Millie was able to recapture her place in the world, and the humane society was able to successfully place its first foster dog.
"Millie had a great home before, and (went) back there, with a little assist from LCHS," she said.
Millie doesn't seem eager to run off again. She prances around the family's living room, furry tail wagging, pink tongue dangling, just like she did before.
"She fell right back into place," Joe Lamborn said. "It's good to have her back. She's always been a good dog."