Teens show culinary talent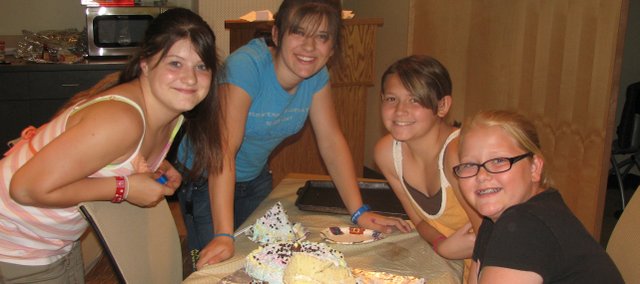 Photo Gallery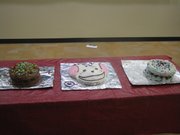 Library cake contest
Basehor teens had their cake and ate it, too, Tuesday at the Basehor Community Library.
As part of the library's summer reading program, 11 teenagers participated in a cake-decorating contest. This summer's theme for the teen program is "Express Yourself at Your Library," and the contest was one of several activities the library organized to offer youth some unique ways to show their personalities.
"The cake decorating fits in with our theme because it's a way for them to express themselves through food," said Amy Schaffer, teen services librarian. "I'm trying to give the kids a lot of different activities this summer."
After the kids divided into three groups, Schaffer distributed two round cakes to each group. Chocolate chips, spice drops, Skittles and sprinkles were just a few of the toppings from which the decorators could choose.
Each group's members were intently collaborating, exchanging ideas to make the perfect cake. One group made a pastel, cookie-shaped cake, another group made a smiling cat cake, and the final group created a garden cake with green grass-like icing.
When each group was satisfied with its masterpiece, the cakes were placed in the library lobby so passing patrons could vote on which cake they liked the best.
It was a close race, but Chase Ryder, Brittni Guthrie, Julia Stevens and Katey Trower won with their Easter-colored cake.
"I was not expecting that at all," Guthrie said as Schaffer announced the winner.
Though one group was named reining champion of the contest, each of the participants received a prize.
"Everyone's a winner here," Schaffer said.
And it was a win-win activity, because there was plenty of cake and toppings to devour at the end of the contest.
For more information about the library's summer reading programs, visit its Web site at basehorlibrary.org, or call (913) 724-2828.