Olympian in sync with Shawnee swimmers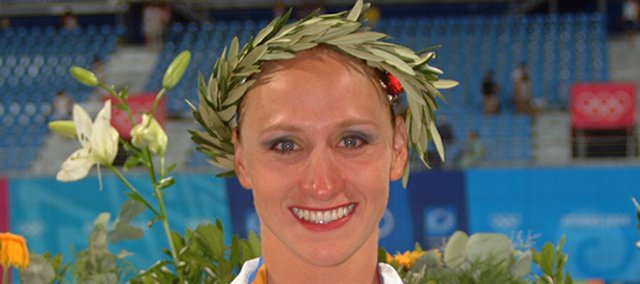 Becky Tomsic remembers the moment she decided she wanted to be a synchronized swimmer.
Her mother was a coach for a team in her hometown of Cincinnati, but it wasn't until she saw the synchronized swim teams on television in the 1984 Olympics — the first time the sport was at the Olympic games — that she made up her mind.
"I just thought the girls were so beautiful out there, and they were so athletic, and I decided this is what I want to do when I grow up," she said.
Tomsic eventually made it to perform in the Olympics herself at the 2004 games in Athens, Greece, when the U.S. team won the bronze medal. Now, she hopes to help local swimmers discover the sport, teaching two week-long classes through the Shawnee Parks and Recreation Department, the first starting this week.
Tomsic said she swam on a synchronized swimming team for 11 years before going to college, starting even before she saw the 1984 Olympics.
"I think it was just a lot of fun, and it was different," she said. "Most of my friends were doing gymnastics or swimming or cheerleading, and synchronized swimming was a lot different. And I really loved the music."
She got into the synchronized swimming program at Ohio State University, one of the best in the country, where she was a four-time Collegiate National Champion and All American and eventually became a member of the school's Sports Hall of Fame.
She tried out for the 1996 U.S. Olympic team while in college and came close to making the squad, but she said she was probably too young.
"It takes a longer time to hone your skills in synchronized swimming," she explained, saying the members of the 2004 U.S. team were ages 18 to 28.
She moved to California after college to train and was appointed to the U.S. national team, becoming a gold medalist in the Pan American Games, silver and bronze medalist in the Synchronized Swimming World Cup, and silver and bronze medalist in World Aquatics Championships.
Tomsic made it on the 2000 U.S. Olympic team, but an emergency surgery forced her out of the water. She attended the games as an alternate, however.
"So I got a taste," she said. "I decided I had to stick it out for four more years; that was my dream since I was 12."
So she trained for four more years. As a member of the Olympic team, she said they would train eight hours a day, in addition to another two hours of "land drills," six days a week. That paid off when the team won the Bronze medal in Athens.
"It was well worth the wait," Tomsic said.
Tomsic and her husband moved to Shawnee last year when he was transferred here for his job with Bayer Animal Healthcare. She said she immediately was impressed with the city's pools and checked out their aquatics programs. When she saw they were trying to put together a synchronized swimming program, she contacted them to get involved.
The one-hour classes for children ages 8 to 12 begin at 6:30 p.m. at Soetaert Aquatic Center, with the first session from June 29 to July 3, and the second session July 20 to 24.
Tomsic said the class would cover strokes, the sculling technique, breath control, floating formations and some water stunts. She said the class would put together a simple routine to perform at the end of the week.
"We'll definitely have a lot of fun," she said.
For more information about the programs, contact the Parks and Recreation Department at 631-5200.