Patriotic display unfurls Sunday in Shawnee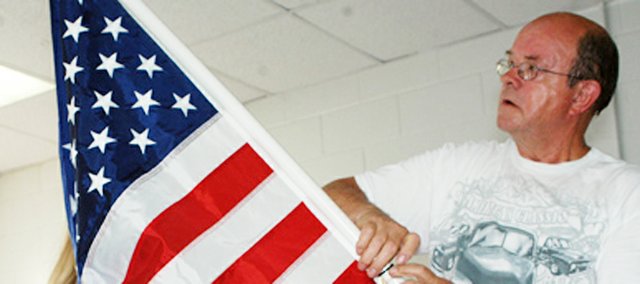 Beginning this weekend, the red, white and blue will again be on full display in downtown Shawnee.
The Shawnee Downtown Business Association is preparing to launch the third-annual Flags For Freedom display of more than 1,000 flags on Johnson Drive from Cody to Merriam Drive and on Nieman Road from Shawnee Mission Parkway to 55th Street.
As usual, the display will be dedicated to veterans and those currently in the military, but Mike Unterreiner, who is helping organize the event for the Shawnee DBA, said there would be an additional dedication this year for William "Dub" Donovan, whose family has owned Donovan's Service downtown since 1937 and who died earlier this month.
"There will be a banner at City Hall dedicating it to Dub Donovan," Unterreiner said. "He's been a longstanding Shawneean since the beginning of time."
The DBA also will sell sponsorships for the flags, with proceeds simply covering the costs of the display.
"All we want to do is put up the flags and show the people we support them," Unterreiner said.
Those who purchase the flags can either take a flag after the weeklong display is over or donate it back to the assocation for next year's event.
The event began in 2006 in Merriam, becoming the official Fields For Freedom event in Kansas and joining several similar events across the nation. The field of flags is meant to pay tribute to those who defend and protect freedom.
In 2007, Shawnee's Downtown Business Association joined in, calling its portion Flags For Freedom, and 2,000 flags were put on display between the two cities.
This year, 3,000 flags will be erected between the two events. Volunteers will meet at 8 a.m. Sunday at City Hall to put the flags on display, and then again at 4 p.m. July 5 to take them down.
Flag sponsorships can be purchased for $10 at downtown businesses like Hartman Hardware and Encore, as well as at City Hall.