Basehor-Linwood grad finds redemption on track at
KU
After injury-plagued high school career, Tyner earns opportunity to run in college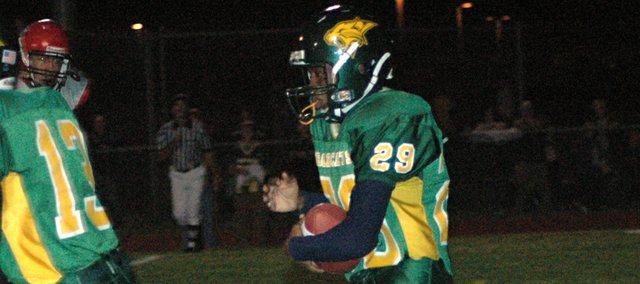 Ask Bruce Tyner who his role models are and he mentions former track star Michael Johnson.
He mentions a couple former coaches at Basehor-Linwood High School.
Then he mentions his mother, and he elaborates.
Sherry Moses is the one he turns to for encouragement. She encourages him to work hard and believe in himself. In high school, she was there for him when the injuries piled up and forced him to the sideline during track season.
Tyner qualified for state as a freshman at BLHS, but he never was able to make a return trip to state because injuries continually sidelined his high school track career.
Tyner always could run fast. The challenge was staying healthy long enough to compete. Each time he started to experience some success, he would suffer an injury. He missed big meets and small meets, regular-season competitions and postseason meets. Despite showing flashes of greatness, he was unable to show off his talent on the biggest stage in the state.
While injuries hindered his high school career, they didn't damper the belief he had in his own abilities or the thought that he could still be a quality runner.
Moses and other family members told him to keep on pursuing running until someone told him he couldn't do it anymore.
"They felt like I was not ready to be done with sports, and said, 'don't give up,'" Tyner said. "They said I should try out for KU. If it doesn't work out, fine, but if it does, keep on doing it."
Others in his situation might have tried to run first at a lower level, either a community college or an NCAA Division II school, but Tyner gave it a shot at the highest level in Lawrence.
He contacted the University of Kansas coaches during the offseason to inquire about trying out for the team. At the tryout date, he showed up and earned a roster spot.
Tyner redshirted during the winter season and then ran in a couple of meets during the spring portion of the season, competing in the 100 and 200 meters.
Tyner said life as a college athlete was like a full-time job, but he said he adjusted without much difficulty.
"(Running in college) was a very different experience," Tyner said. "It is so much harder than high school. At first it was really difficult, but it got easier and easier for me. I was able to get used to the college level."
The competition was tougher. In most high school meets there might be one or two top-tier runners competing in a race, but in college everyone is good. There were more practices and they were equally intense.
"I had never practiced that much. When we had conditioning from September to December, it was almost like two-a-days, six days a week," Tyner said. "I wasn't used to that."
Practice helped him to improve his times. He ran a 10.83 during practice one time this season in the 100. He also improved his 200 time.
Aside from the competition and practices, he enjoyed being a student at KU.
"I loved it. People say high school is the best time, but college is," he said. "It's just like a little city. I really enjoyed the classes, not as much one on one with teachers, but I enjoyed them a little more."
Tyner is back in Basehor and plans to work out with Basehor-Linwood High School strength and conditioning coach Ross Schwisow this summer. Practice at KU will begin the first week of September, and Tyner hopes it leads to more success. He hopes to compete more next season, continuing to build on the progress he made as a freshman.
"I guess what I really enjoyed was making the team and being a part of it," he said. "Hopefully I improve and am able to make an impact next season."