Carnegie Arts Center keeps visitors entertained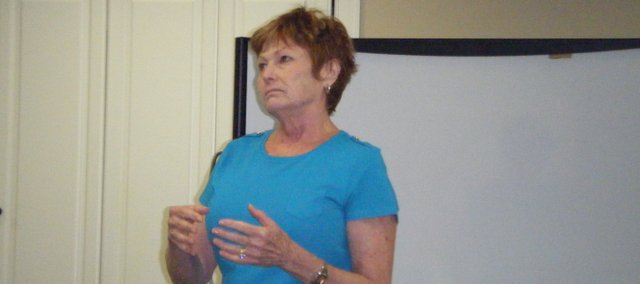 The Carnegie Arts Center of Leavenworth has a number of activities to keep its patrons' schedules full.
Director Carolyn Singleton came to the Basehor Chamber of Commerce Thursday to talk to members about the art center's history and future events.
The center, established in 1987, offers classes on pottery making, drawing, painting and much more. It also features art galleries and exhibits, all of which are available to members of the center and nonmembers.
Singleton said the center was still unfamiliar to many people in the area, and she wanted to change that and get more visitors in the doors.
"It's funny to me how many people have never been to the Carnegie Arts Center," Singleton said. "And that's not people from out of town, that's people who live in Leavenworth."
The mission of the Carnegie Arts Center, Singleton said, is to provide quality fine arts instruction, professional exhibitions and performance opportunities as a community benefit organization.
Funding for Carnegie comes primarily from membership fees — the center has about 300 members right now — and tuition costs of its classes. An individual membership to Carnegie is $25, and a family membership is $50. Members have discounts on classes and private lessons.
This summer, Carnegie has several events planned. A Karl Soulkup exhibit will be on display starting July 12, and a Jessica Simorte exhibit will begin July 17.
In August, Carnegie will have an open house, at which people can tour the building, see a few demonstrations and sign up for classes.
The following classes will be available during the summer months:
• The Potter's Hands
• Ceramic Boxes
• Beginning Drawing
• Beginning Portrait Painting
• Bug-Shaped World I and II
• Animal Safari I and II
• Mixed Media I and II
For more information about the Carnegie Arts Center or any of its programs, call (913) 651-0765 or go to leavenwortharts.org.
Visitors are also welcome to stop by the center, 601 S. Fifth St. in Leavenworth.