Community runs to benefit family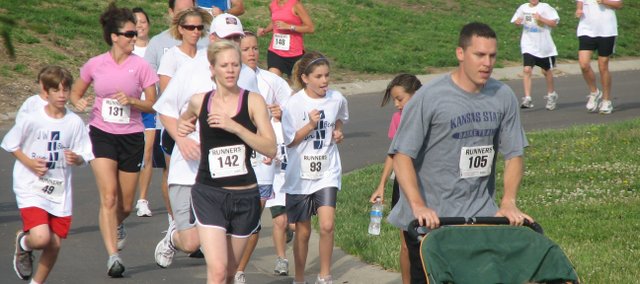 Photo Gallery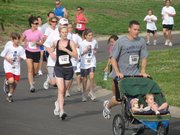 Running for Jeremy
More than 150 people devoted their Saturday to running or walking to help pay for medical expenses for Jeremy Wiles, a Basehor resident paralyzed in a March automobile accident.
A crowd of Basehor community members stood in the parking lot of Glenwood Ridge Elementary School early Saturday morning, ready to run for a cause.
About 180 people came to the Jeremy Wiles Benefit Run/Walk to participate in a 5K relay to give back to the family of Basehor resident Jeremy Wiles.
Wiles, 32, was in an automobile accident in March that left him paralyzed from the chest down. He had surgery on his spine and went into a rehabilitation program. Wiles was the primary source of income for his family — wife, Sasha, son Jack, daughter, Brooke — and since his accident, the family has been struggling to make ends meet and to pay for all of the medical expenses.
Leesa Cunningham and Melissa Greer, friends of the Wiles family, coordinated the run/walk to aid Jeremy and Sasha during this difficult time.
"I went to visit Jeremy in the hospital and knew I wanted to do something," Greer said. "Leesa happened to be there, too, and when I told her I wanted to plan a run/walk for the family, she said she would be glad to help me."
Greer said the event was a huge success, as it raised about $6,700 from registration sales, T-shirt sales and sponsorships.
"It went really well," Greer said. "It was actually better than we expected. We were so happy."
The race was in an open course that winded through the Glenwood Ridge Estates Subdivision, for a total of three miles. After the run/ walk wrapped up, all children in attendance had the opportunity to play games, jump on inflatable play sets and compete in a 100-yard dash.
Plans are already in the works for a similar run/walk next year, Greer said. Though the race might not be in the same location, its mission will remain the same.
"We're definitely going to have another one," Greer said. "The place will depend on if we're able to use Glenwood again. We are also considering using a percentage of the money raised next year for spinal cord research."