Library program takes patrons fishing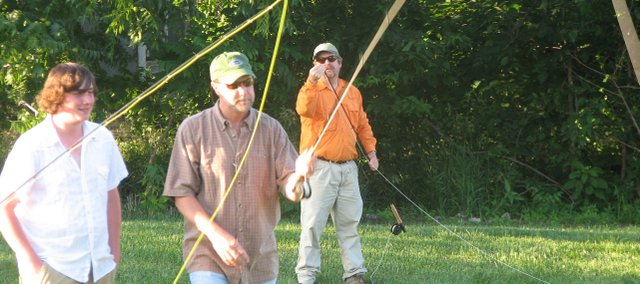 Basehor Community Library patrons braved the steamy weather Monday to go fishing.
Cabela's fly fishing instructor Tim Giger came to the library to introduce those in attendance to the sport. Giger gave visitors some basic information about fly fishing, after which everyone went out on the library lawn to practice casting.
One of the most frequent questions Giger said he heard at Cabela's concerned where people could go fly fishing around the Kansas City area.
"My answer to that is, 'Wherever there's water and suspicion of fish,'" Giger said.
When people hear about fly fishing, Giger said they conjure a stereotypical image of a man waist-deep in a flowing river who's fishing for trout.
"Fly fishing can be that," he said, "But it can be a lot more, too."
Men, women and kids can enjoy this sport because the key is technique, not strength, Giger said. Rivers aren't the only places where fly lines can be cast. Giger said fly fishing can be done almost anywhere – streams, ponds, lakes, etc. – and people can catch almost any type of fish with the right fly fishing skills.
Fly fishing differs from conventional fishing in a few ways. One difference Giger mentioned is the thought put into the object at the end of the fishing line that attracts the fish. With fly fishing, a person puts a fly on the line that resembles the type of food a certain fish eats. Any fish that bite do so out of a hunger response. In conventional fishing, nearly any type of bait can be used, and the fish will bite out of hunger, defending territory or several other reasons.
"In fly fishing, I'm thinking like that fish. I'm connecting with it," Giger said. "I think about its environment and what food it's eating at that time and attract it with that knowledge. For me, that makes it more rewarding to know I figured it out. I know I'm at least as smart as a fish."
Another difference between the two types of fishing is the importance of the reel. A reel is particularly vital in conventional fishing, Giger said, because the fisher uses it the whole time. It's less necessary in fly fishing, as it serves mostly as a line holder, and Giger says that's the best area to cut costs when buying fly fishing supplies.
"I will tell you straight out, most people overpay for the reel," Giger said. "The rod is the most important thing. The reel is the least."
For beginners, Giger recommends an 8.5- to 9-foot rod, with medium-fast action. The action of the rod represents how flexible it is and how much power it has. A slow-action rod is quite flexible, and a fast-action rod is more rigid. The size of this rod will give a beginning fisher a lot of versatility, Giger said, with the ability to fish in narrow streams or wide lakes, under short or tall trees.
For more information about fly fishing, visit the Cabela's Web site at cabelas.com.