New business moving in to downtown Bonner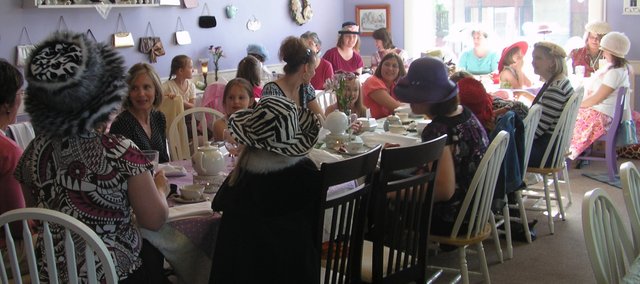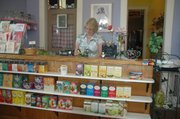 A new business coming to Bonner Springs was born of a love for hanging out with girlfriends in small, niche shops and a layoff.
Bonnie Freeland, of western Shawnee, opened Madame Hatter's Tea Room in Eudora, Kan., with her best friend almost five years ago, about three weeks after being laid off from her insurance job.
"It kind of chose me," she said of why she opened the business, of which she has been the sole owner for almost four years. "I was in the insurance business for 20 years, but I always had a love for tea rooms, coffee houses, little spots, girls-day-out type of things. My best friend and I would go to little spots all over."
Located on the corner of 7th and Main streets, Madame Hatter's is a restaurant that serves high tea as well as lunch in the afternoons. The restaurant is housed in a 19th century building formerly taken up about 150 years ago by the Kaw Valley Bank. The oldness of the building lends itself to a space that is small but full of antiquated charm, with vintage umbrellas, hats and purses decorating the walls and ceilings and a costume room full of the same in what was formerly the bank's vault. This is where, as Freeland said, the "young and young at heart," can dress up in early 20th century hats and accessories while they enjoy lunch and tea with friends.
It is this atmosphere, and not necessarily the square footage, Freeland is trying to bring with her to Madame Hatter's new location in Bonner Springs at 228 Oak St., the former spot of Elsner's Café. Freeland said it was time to move because the old bank was just too small a space for her growing business.
"I am moving because we've just grown out of this space," Freeland said. "It's a very teeny, tiny kitchen … It just can't hold us anymore. On our Saturdays, we have to turn people away."
At the new and larger location, Freeland said, she will have the ability to seat more people as well as serve more than one large party at a time. She would also have something she has been wanting for a long time now: a larger, more commercially-outfitted kitchen, with a confection oven and walk-in refrigerator.
"The kitchen is just like, gosh, it's gotta be like 100 times larger than mine," Freeland said. "The kitchen was a big sell for me because it was very spacious. Also Sean (Elsner) has kept the commercial equipment in there for my usage."
Freeland said she first considered moving about a year ago and visited several locations before deciding on downtown Bonner Springs. She said she saw the outside of Elsner's Cafe shortly after the signs had been put up about its closing in the early part of the year.
"I saw potential there," Freeland said of her reaction to the building and subsequent tour of the inside a few days later.
Though she herself won't be moving to Bonner but will stay in Shawnee, only about a 10-minute drive away, Freeland believes her business will fit in well with the downtown atmosphere. She also believes she might be able to help bring in more people to the area from outside of Bonner Springs.
"I think my business will fit in well because when people come in to my tea room, it's a destination location," Freeland said. "They will drive. I get business from Topeka, Overland Park, Olathe, Baldwin, Gardner. You know, just all the surrounding towns."
Business owner Sean Elsner, who also owns the 228 Oak building, agreed with Freeland that her business would be a great addition to downtown Bonner Springs.
"I think they're going to do wonders for downtown," said Elsner, who closed both Elsner's Café and the neighboring Jet Fuel Coffee and Café in February in order to focus on finding a new location for his own growing business, Infusion Design. "They've got a market demographic that they serve that is going to be very in tune with what a lot of businesses downtown are trying to do."
Freeland said she would miss her current location, especially as she has been serving on the Downtown Eudora Business Association Board to help revitalize that area of Eudora. But she probably won't have to look too far to see some familiar faces.
"We've tried really hard (to revitalize downtown Eudora), and we've made great progress, and there's some great people in town," Freeland said. "So, yes, I will miss my wonderful regular customers. And they all have assured me they will follow."
Pending any delays in renovating the 228 Oak location, Madame Hatter's Tea Room is expected to open at 11 a.m. Tuesday, July 7. Hours will be from 11 a.m. to 3 p.m. Tuesday through Saturday, which Freeland said she might add to as business picks up. Available menu items will include Madame Hatter's Famous Quiche, a chicken salad sandwich and a death by chocolate cake, with various specials going on daily. For more information, and a full listing of menu items, visit madamehatters.com.