Recruitment heats up for
BLHS

ace Henley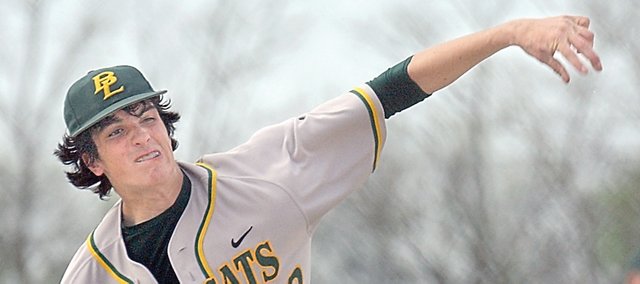 Tyler Henley and his father, Steve Henley, have an early-morning drive ahead of them.
It is a Tuesday, and the pair are headed to Owasso High School, near Tulsa, Okla., where Tyler will participate in a tryout for the Chicago White Sox-sponsored area code team.
Major-league baseball teams sponsor teams that select amateur players based by region to compete in the area code games. The games are showcase events that will take place later this summer.
Tyler Henley initially tried out for the team June 18 in Emporia and was selected to pitch in Tulsa along with 75 other players — a combination of pitchers and position players. The top players will be selected for the showcase team.
The selling point of the tryout is the exposure opportunity it allows Henley.
He wants to impress the right scout, either college or maybe professional, enough to be awarded a scholarship or perhaps a professional contract.
Henley plays baseball today, attends showcase tournaments and thinks about his future.
Henley has dreams. He wants to play college baseball, and then after that, who knows?
TALENTED, BUT JUST HOW GOOD?
Tyler is one of the more heavily recruited baseball players that David Svoboda has coached at Basehor-Linwood.
Henley has played on the varsity team since his freshman year and has been on traveling teams since that time. A break in the recruiting process came last year when Henley was selected to play in the Under Armour National Tournament last fall. He pitched two innings, facing seven batters and striking our five of them.
During the competition, he pitched in front of coaches from different colleges and professional teams.
Since then, Henley has received letters from colleges on the east and west coasts. Various coaches call inquiring, wanting to watch him pitch.
"It is cool because I want to go to big schools. Some are really good at baseball; they look at me as someone that could come to their school," he said.
He hasn't heard a lot of formal offers as this is a dormant period in the recruiting process, but he expects it to pick up after July 1 when NCAA Division I coaches will be permitted to contact him.
Henley is learning what the recruiting process is all about. Letters flow in, but he doesn't know how serious they are.
He wonders how scholarship limits work, how much he can expect to receive in scholarships if a school only has 11 to offer, and what the restrictions are. From what he has learned, a lot of schools offer academic scholarships as part of their baseball package.
He has spoken to some junior college programs who have pitched him the positives of playing at a junior college. He has received a scholarship offer to one of them, and wonders if this is a better option.
Henley remains undecided.
"My dream is to go to a D-I school," he said. "It all depends on money and all of that and playing time."
He also weighs whether or not to commit in the fall or wait until the spring.
"I think it would be easier to sign in the fall. That way you can play during the season and not worry about anything," he said.
Steve Henley wants his son to have the best opportunity, which is not only about baseball, but going to a school he will enjoy and will give him a quality education.
"He is a very good boy," Steve Henley said. "He works hard at baseball. He gets good grades. I am very proud of him. Baseball has helped him a lot."
He also has attempted to help his son stay grounded throughout this process, and impressed upon him the importance of continuing to improve as a pitcher.
"The competitive summer team is the best thing ever for him as a player," Steve Henley said. "Here, he stood out in Basehor. But put on a competitive team, there is a lot of talented players. They are playing teams with good players. They realize they are not the only ones out there … He knows he has to work hard."
Summer baseball has helped Tyler Henley develop more pitches and diversify his options on the mound.
"I have had to develop breaking pitches," he said. "I throw a cutter a lot. It comes out like a fastball and drops off to a right handed batter, and away from the left hander. It is kind of like an out pitch for me."
LONG DAYS WORTH IT
It is now Tuesday night.
After leaving at 5 a.m. for Oklahoma, the pair returned home in Basehor at 8 p.m. Henley pitched in front of 50 college and professional scouts on Tuesday.
He threw 14 pitches, a combination of curve balls and fast balls. With each pitch, the radar guns went up and then down.
"He enjoyed that part, he pitched well," Steve Henley said. "He hit pretty well. (It's) hard to tell how people really did. You can't get close enough to hear what anybody is saying."
The pair now will wait to hear from organizers.
"They said, 'that they did good and that they would be in touch,'" Steve Henley said. "I think they will tell them whether they made it or not."
For the Henleys, it was just another day of the recruiting process.