USD

458 leader says goodbye after 27 years in education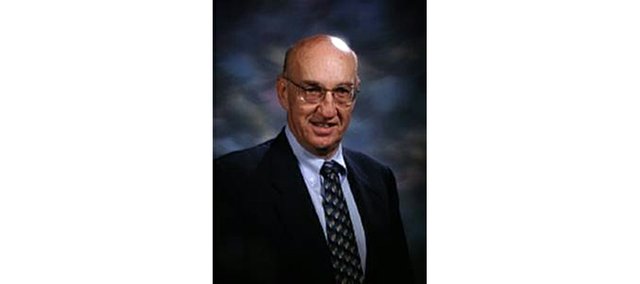 Monday night's Basehor-Linwood Board of Education meeting was short and sweet, but it was the end of a few long careers in the district.
June 22 was the final school board meeting for Superintendent Robert Albers, board president Randy Cunningham and board member Patrick Jeannin.
Before Albers exited the Lou Haney Board of Education meeting room for the last time, he said he felt a little nostalgic.
"It feels good to be done, but I will miss it," Albers said. "After 27 years of school board meetings, it's hard to believe that was the last one."
Albers came to Basehor-Linwood in 2006, but it was not the first time he had been involved in school systems. Monday ended Albers's nearly 50-year career in education, including several teaching and superintendent positions.
The people in the Basehor-Linwood School District are what Albers says he will miss most.
"I will miss working with everyone," he said. "And I'll also miss the school activities. I always enjoyed going to those."
Out of all the memories Albers accumulated during his years as superintendent, two stand out.
"Passing the bond issue and winning the state championship, those things are my favorite memories," he said.
Taking Albers' place is Assistant Superintendent David Howard. Albers said he was confident Howard would be successful.
"He will do a great job," Albers said of Howard. "I think he's one of the upcoming superintendents in the state, and he'll take off running. He knows everything about the district. Things will only go up from here."
Cunningham shared Albers' feeling of nostalgia about the end of his 12-year stint on the school board.
"I feel both glad and sad," Cunningham said. "If I still had kids in the school systems, I would probably have stayed. I hated to give it up, but it's time for someone else to step in."
The meetings and the people in the district are what Cunningham says he will remember most fondly. Wynne Coleman and Richard Zamora are the two new incoming board members. Cunningham said he thought they would do well, though he remembered how difficult it was to adjust in the beginning of his first term.
"The learning curve on the board is long," he said. "It takes a year to feel comfortable. But they'll do fine as long as they remember they're one person. It takes four votes to do anything."
After eight years with the school board, Jeannin is glad his term has ended. He said he was proud of everything the district had accomplished while he was on the board, and he had a lot of pleasant memories to carry with him.
"Looking back, we've had some great accomplishments," Jeannin said. "We improved the curriculum and instruction, particularly with the alignment of curriculum and instruction in kindergarten through 12th grade. I'm proud of the outstanding facilities we're building and of the quality of person teaching here and serving on the administration."
Jeannin said he would miss interacting with all the people in the district, but he was happy the school board would have some new faces.
"I will miss working with all the excellent staff members and the outstanding members of the community," he said. "But it's always good to have fresh ideas. The two incoming individuals have good professional and education backgrounds, which will be good for the board."
Also on Monday, the board:
• Unanimously approved bills and payroll.
• Unanimously approved to close the 2008-2009 fiscal year.