Vintage cars sold at local, world-renowned business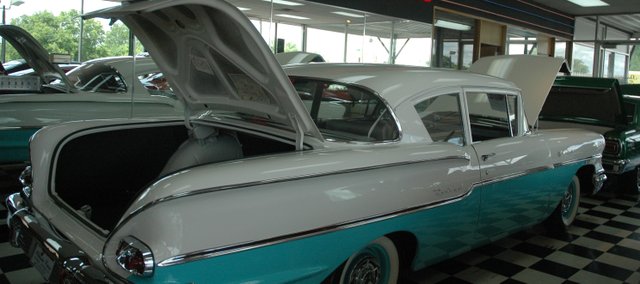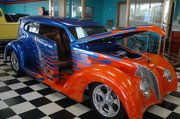 If an automobile heaven exists, where decades-old cars go to be shined, spruced up and proudly displayed in the manner in which they were intended to be seen, it might be located inside of Wagner's Auto Body and Sales, Inc., 741 E. Front St.
Wagner's specializes in auto body work, as well as the restoration, buying, selling and trading of used and classic cars. Owner Willie Wagner first opened the shop, which was originally only an auto body shop, in 1968 in Kansas City, Kan., where he moved after graduating from high school in Arkansas. He said working on cars had always been in his blood.
"My dad had a car lot and that's all he worked on was cars, so that's all I've ever done," Wagner said.
A year later, he expanded his auto body shop into one that also specialized in the sale of used cars and, in about 1980, he expanded the shop even further to include classic and muscle cars. Wagner said these kinds of cars had always been a passion of his, and it was time to start putting that passion to good use.
"I've always liked the old cars, ever since I was a little kid. Just always had 'em," Wagner, who has several "old cars" in his own personal collection including a 1958 Chevy Impala, said. "But (I) didn't really get into the classic car sales part of it until the early 80s, and the reason being there was a good market for 'em and the market got better."
Wagner finally moved the business to its current Bonner Springs location in 1996 because, he said, it was much larger and gave him the opportunity to display all of his classic cars in the same building as his auto body shop. Large floor-to-ceiling windows in the front of the shop allow a number of the 45 classic cars Wagner has available for trade or purchase to be seen from Front Street.
The front showroom is, in fact, packed with cars ranging from a 1958 Chevy "Del Ray" to an all-custom made street rod patterned after a 1939 Ford model. Wagner's son Scott Wagner, who also works at the shop, said the price on the cars ranges from $16,000 to $215,000. He said many of the cars at Wagner's only needed a couple of days of minor restoration work before they were ready to be displayed, but Willie Wagner said that, in addition to the sale and trade part of his business, Wagner's offers full restoration services.
"What anybody wants, from a pile of rust to that," he said, gesturing to the classic cars in mint condition displayed in the showroom. "Complete frame-off restorations, complete paint jobs and anything in between there."
Willie Wagner said people who buy classic cars are usually those of a nostalgic nature who are wanting to relive the past, or maybe experience something they wanted to when they were younger but couldn't afford until now.
"The thing about classic and older cars, most of 'em are people that, when they were growing up, wanted that car and couldn't afford it," he said. "They want to renew their memories I guess."
This condition doesn't apply to only those living in Bonner Springs, Scott Wagner said. Local residents enjoy looking at the classic cars, but he said most of the cars are sold elsewhere.
"Only 20 percent, maybe not even that, (are sold) locally, the rest worldwide," Scott Wagner said of the estimated 125 classic cars Wagner's sells in a good year. "We sell cars everywhere. We just happen to be located in Bonner Springs. As easy as advertising is nowadays, it's not just that you gotta be located in downtown Manhattan (New York) to sell cars."