Three kings lead Lions to second-place finish at state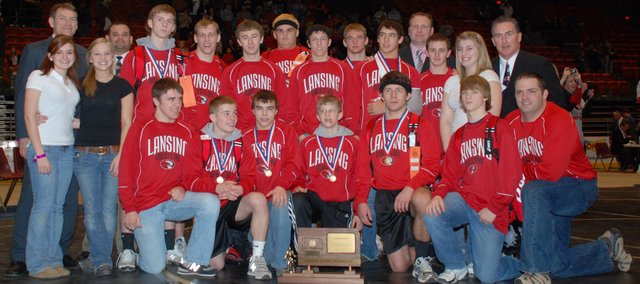 Wichita — In all of its storied history, the Lansing High wrestling program never has had a day better than Saturday.
The Lions set numerous program records at the Class 5A state tournament at the Kansas Coliseum, all of which added up to the program's first state trophy in history after its second-place finish.
"This was just a year of records for us," said Lansing senior Grant Hinckley, the state champion at 171 pounds. "Everyone else thought we were the underdogs. We would always tell ourselves 'we're better than everyone thinks we are.' We strike fear in people's eyes, but we never qualified 14 people for state, never had eight medalists, never had a second-place finish and never had three champions.
"I'm so proud of everyone. No one slacked off these last two days. Everyone did what they needed to do. They knew they had to do what was not expected of them."
It was largely assumed that Emporia would run away with the team title. The Spartans did finish first, but Lansing made them sweat until the very end. EHS won with 159.5 points, followed by Lansing with 152 and Bishop Carroll with 123.
Fellow Kaw Valley League school Mill Valley tied for ninth with 63 points.
The Lions were dominant throughout the tournament, but the three biggest performances came from freshman Bo Pursel, sophomore Spencer Blew and Hinckley.
Pursel dealt with a knee injury a few weeks ago, but he was in prime form at state. After edging McPherson's Beau Johnson in the first round with a 7-4 decision, Pursel used the same score to beat Bryce Dakin of Emporia and move into the semifinals. Pursel then beat Aaron Seybold of Pittsburg in the semifinals, 11-6.
Pursel's championship match looked like it would turn into a rout. He stretched a 4-2 lead after the first period to 8-2 after scoring on a reversal and a near-fall midway through the second period. His lead grew to 10-4 early in the third period after a takedown, but Colby Watters of Arkansas City scored on an escape and a takedown in the final minute to pull within 10-7 before Pursel hung on for the title.
Pursel ended his freshman campaign with a 38-2 record.
Soon thereafter, it was Blew's turn at 130 pounds. He wasted no time taking control of the match, scoring with a takedown just 10 seconds into the match. Moments later the match was over. Blew needed just 1:15 to pin Kash Biddle of Arkansas City.
Blew pinned his way through the bracket, and only his second-round match reached the second period. In all, Blew wrestled for just seven minutes and 10 seconds in four matches.
Blew finished the season with a 37-3 record. Of those victories, 35 were by pin — a program record. Nick Flynn, a three-time state medalist and 2008 LHS graduate, held the old record of 33 pins.
"Spencer had really been wanting the team record for pins," LHS coach Ron Averill said. "When he won his semifinal match to put him into the championship, the thing he said when he came up was 'that's 34.' He broke the record.
"I told him before the (championship) match, 'what I want you to do is go out there and have fun, and after you win the match, come up and say '35.'"
Hinckley's championship match at 171 pounds may have been the most anticipated of the three finals for Lansing. That's because he was paired against rival and friend Josh VanHolland of Mill Valley.
The pair had wrestled three times previously this season. VanHolland led the series, 2-1, including a narrow victory in the Kaw Valley League championship match two weeks earlier.
Both wrestlers have brought the best out of each other throughout the season.
"He knows how to bring it," Hinckley said of VanHolland.
After a scoreless first period, VanHolland struck with a reversal midway through the second period for a 2-0 lead. Hinckley answered with an escape to pull within 2-1.
Hinckley tied the match with 1:57 left in the third period when he notched another escape point. Each wrestler then spent the rest of the period trying to shoot and shaking off attacks by their opponent. The period ended with the pair shoulder-to-shoulder and toppling to the mat as Hinckley nearly scored a late takedown. No points were awarded, however, and it was off to overtime.
VanHolland attempted a takedown early in overtime and Hinckley rolled through it, ultimately scoring a takedown of his own for the 4-2 victory.
Hinckley's arm was raised in victory by the official. Then Hinckley and VanHolland embraced. Seconds later, an exhausted Hinckley slumped into Averill's arms.
"While I was waiting on the mat, (Assistant) coach (Brian) Malm told me, 'three more laps, baby,'" Hinckley said, referencing laps the team runs for conditioning in the upstairs hall at the high school. "One lap is like a period, so three more laps, three more periods and I'm done, my last match of senior year.
Of course it was four laps," Hinckley added with a grin, "but whatever."
In addition to the trio of champions, junior Cullen Demarest placed third at 152 pounds and sophomore Tyler Baughman was fourth at 160 pounds. Sophomore Dillon Scanlon capped a 40-6 season by finishing fifth at 135 pounds. Sophomore 145-pounder Tyler Terron placed fifth, as did sophomore 189-pounder Nathan Wessel. Wessel lost his first-round match but bounced back to win three straight in the consolation bracket to enter the medal rounds.
Of the Lions' eight state medalists, only Hinckley will not return next year. They will return a total of 11 state qualifiers next year.
Three Lions went 1-2 at state and finished out of the medals. Senior 140-pounder Wes Appleget lost his first match and then won a match in the consolation bracket before losing again and being eliminated. Senior 189-pounder Brian Snodgrass went 1-2, as did sophomore 285-pounder Zach Hammer.
Three other wrestlers — sophomore Brett Brown (112 pounds), freshman Mikey Laster (119 pounds) and freshman Justin Lozenski (125 pounds) — went 0-2 at state.
For Averill, who is in his 25th year as the head coach at LHS, the state tournament went better than he imagined it would.
"It was beyond our dreams," he said. "Everything really went better than planned. What's really crazy is when we look over it later, we really could've had eight guys in the semifinals, but there's no way we can look back on this with any regrets or anything like that. It's been a long, hard season. We've had a lot of bumps and bruises throughout the season, and it's just really encouraging to have everything come together like it has today."