Basehor boys rout Royal Valley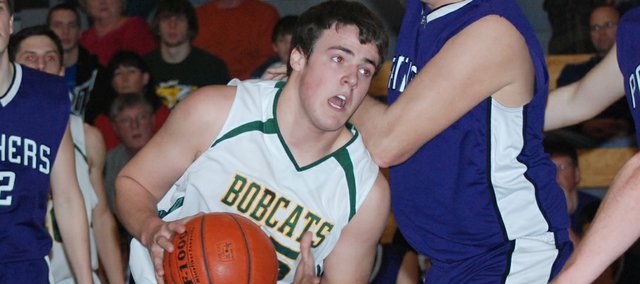 Photo Gallery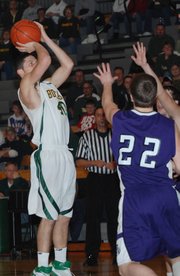 Bobcats blast Royal Valley
Colin Murphy caught the basketball in transition, made a couple dribbles, took a step and with one hand dunked the basketball, bringing down the house and scoring Basehor-Linwood's 73rd and 74th points of the game.
The BLHS gymnasium erupted in a loud cheer. Bobcat coaches and players jumped up and celebrated on the bench.
Royal Valley called a timeout 30 seconds later.
The "he's a freshman" chant rose from the student section.
For his part, Murphy said the dunk wasn't that big of a deal.
"I have done it in a game before," he said. "I dunked in middle school in a game."
The dunk was part of a dominating performance for the Bobcats against Royal Valley on Monday in the first round of the Class 4A sub-state boys basketball tournament. Basehor-Linwood won the game, 82-32
Basehor-Linwood made 13 shots from 3-point range.
Nine players scored in the game. Four players finished in double figures with senior Chandler Schaake leading the way with 16 points. Other Bobcats in double figures were Anthony Pierce with 13 points, Justin Gripka with 12 points and Colin Murphy with 11.
The blowout victory was unusual for a sub-state game, coach Mike McBride said.
"Yeah it is; two years ago we had a game that had an opportunity to have a score like that. We did not play very well (that time)," he said. "We just brought it all night long tonight; there is not much you can say about that game."
The score was 9-8 in the first quarter when Chandler Schaake drilled a 3-pointer from the top of the key.
Out of the timeout, Gripka made two shots from 3-point range and the Bobcats led 20-12 at the end of the first quarter. He finished the game with four treys.
"It was a good way to go out in my last home game," Gripka said. "We have two games left in the tournament and we have to play as a team to get the job done."
Basehor started the second quarter on a 13-3 run to take a commanding lead.
BLHS led 44-21 at halftime.
The Bobcats outscored Royal Valley 21-6 in the third quarter and were on their way to a convincing victory. The team had seven different players score in the half as the rout continued.
In the fourth quarter, McBride subbed out a lot of his starters. The team's backup players combined to drill three treys in the quarter as the Bobcats rolled to the victory.
Basehor-Linwood (17-4) next plays at 7:30 p.m. Thursday against Perry-Lecompton at PLHS in the sub-state semifinals. Perry advanced by beating Hiawatha, 48-34, on Monday.
In the other half of the sub-state bracket, Tonganoxie beat Atchison, 62-43, and Holton beat Jefferson County West, 59-54.